UTSA College of Architecture lecture features urban planner Daniel D'Oca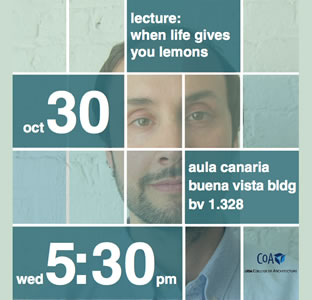 Share this Story
(Oct. 28, 2013) -- The UTSA College of Architecture (COA) will present urban planner and designer Daniel D'Oca speaking on "When Life Gives You Lemons" at 5:30 p.m., Wednesday, Oct. 30 in the Buena Vista Street Building Aula Canaria (1.328) on the UTSA Downtown Campus.
The lecture is the second in the COA Fall Lecture Series, which is free and open to the public.
D'Oca is an assistant professor of art history, theory and criticism at the Maryland Institute College of Art and design critic in urban planning and design at the Harvard Design School. He specializes in the politics of contemporary-built environment in America.
He is the principal architect and co-founder of Interboro Partners, a New York-based architecture, planning and research firm founded in 2002. The firm has won many awards for its innovative projects including the Museum of Modern Art's PS1 Young Architects Program, the Architectural League's Emerging Voices and Young Architects Awards and the New Practices Award from the American Institute of Architects New York Chapter.
In 2013, D'Oca is set to publish the book, "The Arsenal of Exclusion & Inclusion: 101 Things that Open and Close the City," co-authored with Tobias Armborst and Georgeen Theodore. The book "explores the way in which urban design and architecture influence culture and relationships," according to its synopsis.
D'oca has published and exhibited widely including features in Places, Domus, Urban Omnibus, Architecture magazine, and exhibitions at the Museum of Modern Art, Netherlands Architecture Institute, Museum of Contemporary Art - Leipzig and the German Architecture Museum.
D'Oca received his Bachelor of Art in Philosophy degree from Bard College and his Master in Urban Planning degree from the Harvard Design School.
Upcoming COA lecture: Nov. 6 -- Joe O'Connell and Blessing Hancock of Tucson, Ariz.
For more information about the UTSA College of Architecture Fall Lecture Series, contact Nicole Chavez at 210-458-3121.