UTSA Global Medical Brigades travels to Honduras to help build water system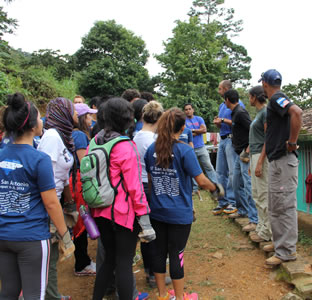 Share this Story
(Oct. 2, 2013) -- A group of students from the UTSA chapter of Global Medical Brigades recently returned from their first trip to Honduras. Thirty-six pre-medical and pre-dental students and two physicians from the United States joined five physicians in Honduras to provide health-care services for more than 750 people in three rural communities in Honduras -- La Cienega, Silisgualagua and Liquidambas.
>> View a video of the UTSA students in Honduras.
The community residents did not have access to a health-care center, and many walked up to three hours to receive care from the brigade.
"Traveling to Honduras was an unexpected and deeply memorable experience," said Jade Heverly-Campbell, president of the UTSA chapter of Global Medical Brigades. "On our final day, we were given the honor of taking part in the final stages of a full-scale water system that will now provide clean water to over 500 homes."
UTSA students and physicians assisted community residents with medical, dental and basic pharmaceutical interventions, along with public health discussions (or "charlas") with adults and children.
The adult charlas included discussions about personal and environmental hygiene, as well as sexual protection and family planning. Charlas with the children stressed the importance of teeth brushing, hand washing and basic hygiene.
"I have brought back the realization of just how much can be accomplished through empowering a community, when that support is ongoing and perpetuated by the community members themselves," said Christian Ume-Ezeoke, a member of the UTSA group.
"I believe we all have returned from Honduras with a greater desire to contribute to this process through community services and with the hope that all those impacted will continue to perpetuate a cycle of bi-lateral empowerment that will fully encompass our immediate neighborhoods, the city of San Antonio and beyond."
Global Medical Brigades is the "world's largest student-led global health and sustainable development organization" and is growing rapidly because of its success in creating social change around the world.
"You get to spend time with the physicians, examine wounds and help treat a little," said Carla Illie, vice president of dental and member of the Global Medical Brigades UTSA chapter. "You are learning, and you can see how happy you are making other people. How grateful they were for medication and vitamins. We were able to sing songs with the kids, teach them how to brush their teeth, give them small toys and bring them joy."
The UTSA chapter of Global Medical Brigades meets at 7 p.m. each Wednesday. Membership is open to all UTSA students. For more information, email gbutsa@gmail.com. Follow them: @UTSA_Brigades.