UTSA Creative Writing Reading Series features author Kevin Young Nov. 15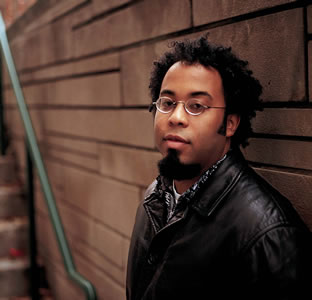 Share this Story
(Oct. 31, 2013) -- The Creative Writing Program in the UTSA Department of English will present author Kevin Young as the featured speaker in the Fall 2013 Creative Writing Reading Series at 7:30 p.m., Friday, Nov. 15 in the Business Building University Room (2.06.04) on the UTSA Main Campus. The event is free and open to the public.
The UTSA Creative Writing Reading Series features public readings by poets and fiction writers who visit classes and meet with UTSA students to discuss their writing.
Young's latest book, "The Grey Album: On the Blackness of Blackness," received the 2013 Pen Open Book Award, National Book Critics Circle Award in Criticism, Graywolf Press Nonfiction Prize and was listed as a New York Times Notable Book.
His first book of poetry, "Most Way Home," was selected as a National Poetry Series winner and the Zacharis First Book Award in 1993. In 2001, he authored "To Repel Ghosts" and was named a finalist for the James Laughlin Award.
His additional books include "Ardency: A Chronicle of the Amistad Rebels" (2011), "Dear Darkness: Poems" (2008), "For the Confederate Dead" (2007), "Black Maria" (2005) and "Jelly Roll: A Blues" (2003).
Young's poetry and essays have appeared in the New Yorker, New York Times Book Review, Paris Review, Kenyon Review and Callaloo.
He has edited numerous anthologies including "The Hungry Ear: Poems of Food and Drink" (2012), "The Collected Poems of Lucille Clifton: 1965-2010" (2012), "The Best American Poetry" (2011), "The Art of Losing: Poems of Grief and Healing" (2010), "Jazz Poems" (2006), "Selected Poems: John Berryman" (2004), "Blues Poems" (2003) and "Giant Steps: The New Generation of African-American Writers" (2000).
Young's list of honors includes the Stegner Fellowship in Poetry at Stanford University, a Guggenheim Foundation Fellowship, a MacDowell Colony Fellowship and a National Endowment for the Arts Fellowship.
A native of Lincoln, Neb., Young received A Bachelor of Arts in English degree from Harvard University and a Master of Fine Arts in Creative Writing degree from Brown University. He has taught at the University of Georgia and Indiana University. Currently, Young is the Atticus Haygood Professor of Creative Writing and the Curator of Literary Collections at Emory University's Raymond Danowski Poetry Library in Atlanta.
The UTSA event is co-sponsored by Joycelyn Moody, Sue E. Denman Distinguished Chair in American Literature at UTSA.
For more information, contact Wendy Barker at 210-458-5362 or visit the UTSA Creative Writing Program website.