Students Zack Dunn and Rebecca Smith named 2013 Mr. and Ms. UTSA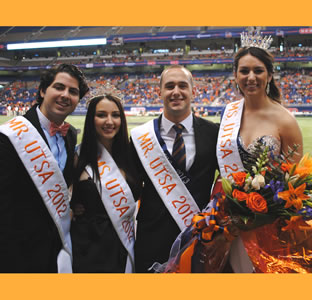 Share this Story
(Oct. 31, 2013) -- UTSA students Zack Dunn and Rebecca Smith were named Mr. and Ms. UTSA during the halftime show at the Oct. 26 Homecoming football game. Sponsored by the UTSA Alumni Association, the award recognizes UTSA students striving for the highest levels of academic achievement, campus involvement and community service.
Showcasing some of UTSA's finest students, the 2013 Homecoming Court also included Robert Bennett, Miracle Cooke, Marc Flynn and Christine Velasquez.
Candidates competed in several categories including an application process, written essay, formal interview, fundraising and a student vote for the chance to be named Mr. and Ms. UTSA. This year, the 2013 Homecoming Court set an all-time record in fundraising by raising more than $12,900 for UTSA scholarships. While each member of the Homecoming Court would be a capable representative of the university, only two can claim the honor.
Rebecca Smith, a kinesiology major from Portland, Texas, shows her UTSA pride in many special ways. As a member of the UTSA Honors College and president of Zeta Tau Alpha, she represents UTSA through her many leadership and volunteer positions. She is a member of the UTSA Pre-Physical Therapy organization and is actively involved in football recruitment.
Zack Dunn, a finance major from San Antonio, shares his passion for UTSA with students every day. As Student Government Association president, he represents Roadrunner pride through interactions with students, administration and community leaders. He is a senior analyst in the UTSA College of Business Investment Society and has represented UTSA at many leadership conferences.
We are proud to have Zack and Rebecca serve as the 2013 Mr. and Ms. UTSA. Through the next year, they will represent the student body, UTSA Alumni Association and the university at a number of special events and functions.
For more information about Mr. and Ms. UTSA, contact the Office of Alumni Relations at alumni@utsa.edu or 210-458-4133.