UTSA Rowdy Rally is 3 p.m., Friday, Oct. 25 at University Center paseo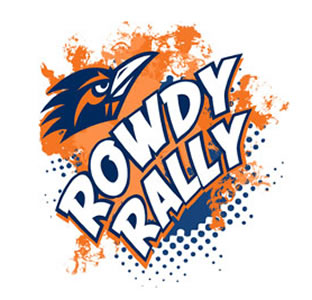 Share this Story
(Oct. 23, 2013) -- The UTSA tradition continues at Rowdy Rally at 3 p.m., Friday, Oct. 25 at the University Center paseo on the Main Campus.
The UTSA community and supporters will rally together for a spirited team send-off as the Roadrunners football players load the buses for downtown. They will face off against the University of Alabama-Birmingham at 4 p.m., Saturday, Oct. 26 at the Alamodome.
Rowdy Rally, which is every Friday afternoon before a home game, features a pep rally, the UTSA Spirit of San Antonio Marching Band and, of course, Rowdy.
There will be free snacks, Orange Crush floats and other giveaways at the event, as UTSA joins together to rally around the team.
At Saturday's game, the Spirit Walk will begin at 1:30 p.m., Alamodome doors open at 2:30 p.m. and the kickoff is 4 p.m.
>> October 20-26 is UTSA Homecoming Week. Learn about the week's activities at the UTSA Homecoming website.
>> For all you want to know about UTSA football, visit the UTSA Game Day website.