UTSA Roadrunners give back by volunteering at San Antonio Food Bank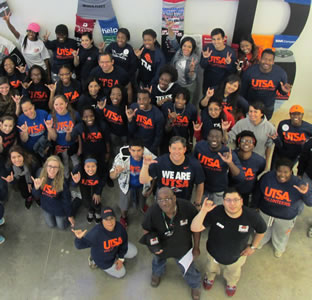 Share this Story
(Oct. 25, 2013) -- UTSA Homecoming 2013 was officially kicked off Sunday, Oct. 20 with a Homecoming service project at the San Antonio Food Bank. The San Antonio Food Bank provides food and grocery products to more than 500 partner agencies in 16 counties throughout Southwest Texas. The mission of the SAFB is to fight hunger in Southwest Texas through food distribution, programs, education and advocacy.
More than 60 UTSA students, faculty, staff and alumni teamed up at the local food bank. The initial goal was to sort 14,250 pounds of food, but Roadrunners surpassed the goal and sorted 25,705 pounds that results in providing 20,082 meals.
Members from the Volunteer Organization Involving Community Education and Service (VOICES), the UTSA chapter of the NAACP Student Organization, the UTSA Ambassadors and students from the Leadership and Service Floor were among the volunteers.
Yvonne Pena, UTSA associate dean of students, was among the volunteers and was excited to see so many Roadrunners joining together for a great cause and the turnout for the first Homecoming event of the year.
For more information about Homecoming Week events, visit the UTSA Homecoming website.
For more information on service activities, visit the UTSA Inclusion and Community Engagement Center website or go to the Volunteer Services/VOICES office in H-E-B University Center Room 1.216 on the Main Campus, email volunteer@utsa.edu or call 210-458-7291.