UTSA Engineering hosts Monster Mash Pumpkin Smash at second annual STEM Fest Nov. 2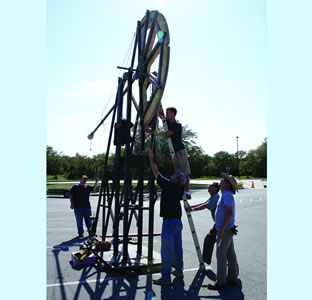 Share this Story
(Oct. 17, 2013) -- The UTSA College of Engineering and the College of Engineering Student Council will host its popular Monster Mash Pumpkin Smash in conjunction with STEM Fest from 2 p.m. to 6 p.m., Saturday, Nov. 2 in the Valero Energy parking lot next to the UTSA Main Campus. STEM includes science, technology, engineering and mathematics. The event is free and open to the public.
The Monster Mash Pumpkin Smash challenges students of all majors to design and build a medieval trebuchet (or catapult) that will launch and destroy a pumpkin. In recent years, winning teams have launched pumpkins up to 700 feet. This year, teams will have three different targets they must hit.
In addition to slinging pumpkins, the festival will include engaging hands-on science experiments for the kids, a costume contest, virtual-reality roller coaster, moon bounce, dunk tank and other family-friendly activities. Free t-shirts will be available while supplies last. Engineering student organizations also will offer food and drinks for sale to raise funds to support their campus activities.
The UTSA College of Engineering Student Council (COESC) is a nonprofit organization dedicated to uniting and advancing collaboration between UTSA engineering students and society. The council provides guidance to UTSA engineering students to increase their participation in UTSA campus life, activities and events, and to show others that engineering goes beyond just math and science. It also gives UTSA engineering students the opportunity to apply what they have learned in the classroom to real-world situations.
Any student organization or individual team that would like to enter the Monster Mash Pumpkin Smash competition can register by emailing COESC at utsacoesc@gmail.com by Oct. 18. Catapult designs are due Oct. 25.
>> Learn more at the UTSA College of Engineering website.