Meet a Roadrunner: UTSA's Tahlia Ashwood-Peart is used to being youngest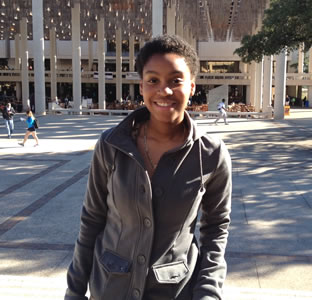 Share this Story
(Oct. 9, 2013) -- Meet Tahlia Ashwood-Peart. She's used to being the youngest in the group.
Growing up with her grandmother, a passionate educator, Tahlia had the fortune of learning far more than the average toddler in day care or pre-K. Her grandmother convinced the school principal to give Tahlia a placement test to prove that she could perform equally alongside children two to four years her elder. At age three, she was transferred into kindergarten alongside five- and six-year-olds.
Today, a full-time computer engineering major at UTSA, Tahlia is just a few credits shy of being classified as a sophomore at age 16.
While she's understandably still deciding on career options, her heart is set on following in her mother's footsteps and serving her country in the U.S. Air Force upon graduation.
Currently a cadet in the Air Force ROTC at UTSA, she says the organization's core values of integrity, service and excellence drive her hunger for success.
"What I do know is that however far life takes me, all I want in the end is to be a positive influence on someone who had no one else to look toward in a time of need," she says. "I want to make my parents proud and pay gratitude to my grandmother who saw that spark in me so long ago. To this day, they continue to support me in whatever I choose to do. Whatever I'll do, I'll give it my best, and in the end that's all that counts."
When Tahlia is not in class or ROTC training, she works both as a junior development officer in UTSA's call center and as an assistant in the UTSA Annual Giving office, supporting the university's fundraising efforts.
Genevieve Lopez, assistant director of annual giving at UTSA and Tahlia's supervisor, is impressed with her character.
"Tahlia is an incredibly bright, talented and mature young woman," Lopez says. "She juggles many responsibilities and makes it all look so easy."
-----------------------------
Do you know someone at UTSA who is defying the norm? Email us at social@utsa.edu, and we will consider your submission for an upcoming installment of Meet a Roadrunner.