UTSA Architecture symposium gives students opportunity to introduce research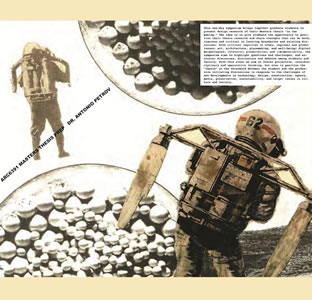 Share this Story
(Nov. 5, 2013) -- UTSA students in the Master's Thesis Methodology Seminar of Assistant Professor Antonio Petrov came together last month for the debut of "The History of the Future," a one-day symposium during which they presented the design research they have completed thus far for their theses.
A new initiative in the College of Architecture (COA), the symposium gave Master of Architecture (M.Arch.) students the opportunity to introduce their thesis research and share concepts at an early stage to encourage projective, interdisciplinary and speculative thinking in an exchange with faculty and other students.
Students broke into five sessions based on the topic areas of their theses, then reconvened for a closing discussion with the entire group. The sessions were moderated by these COA faculty members (including topic areas): Sedef Doganer (Urban, Regional and Global Issues); Shelly Roff (Art, Architecture and Placemaking); Kevin McClellan (Digital Morphologies, Form and Fabrication); Hazem Rashed-Ali ([Im]Materiality and Well-Being); Angela Lombardi ([Historic] Preservation and Local Communities).
Moderators created a comfortable, non-judgmental environment for students, offering advice, resources and supplemental readings for an expansion of the students' bibliographies. Students received feedback regarding their ideas and prepared to improve their architectural solutions by incorporating the faculty members' suggestions. Many discussions centered on the fundamental question each project proposed, the dimensions of the problem and the student's position on that problem.
"You need to have a claim or take a position in order to have a thesis, and many of us are still working on that," said student Emi Furuya, whose thesis is titled "Growing More Than Gardens: Feeding Our City's Urban Landscape in the 21st Century."
"I think this course is structured well, because we have one semester to focus solely on research and coming up with a claim," she said. "Our claim has to be strong enough -- I'm pretty sure that's why the claim and the final master's project are separated into two semesters."
After listening to a classmate's presentation about rethinking orphanage design, Furuya was compelled to share some of the challenges she faced while conducting her own research. She observed a mutual theme in their projects -- well being as a social problem -- and recalled her previous struggle to translate social problems into architectural form, program and materiality. Furuya told her classmates that she was only able to move beyond her initial one-dimensional solution (identifying the social problem and designing an architecture that responds to it) after being advised to research the relationship between landscape and well being. Only then was Furuya able to view the problem as a social context instead of a built form.
Roff noted that the students already have gained considerable knowledge about design philosophy and theory, and the ways one might apply them to architecture.
"Now they're trying to connect the philosophical ideas with the building itself, and that's hard to do," she said. "I think having this exercise early on is wonderful. You have these ideas about what you want to do, but it's not clear yet. Then, you put it out there and all of a sudden the doors get opened."
Associate Professor Stephen Temple commended the students for already having completed rough abstracts, but emphasized the importance of persistent inquiry. When they begin designing their buildings next semester, there must be a fundamental problem to address that is worthy of designing. Temple reminded the students that inquiry drives the profession -- he is hopeful they will build on the sense of inquiry generated in school until it is strong enough to guide them through their own practice with conviction.
Petrov continually prompted his students to think about the big picture, reminding them that they are making a contribution to the larger field through the discussion of their ideas and the formulation of a strong thesis. As the thesis is positioned at the threshold between the student and the profession, it is a crucial time for these prospective graduates to initiate collaborative, interdisciplinary dialogues about challenges and new developments in technology, design, construction, agency, media, preservation, sustainability, and larger issues in culture and society.
The next installment of "The History of the Future" will be near the end of the fall 2013 semester. Students will give updated presentations on their research in progress before entering their final semester of studies, during which they will complete their final master's projects.