UTSA Child Development Center now accepting applications for spring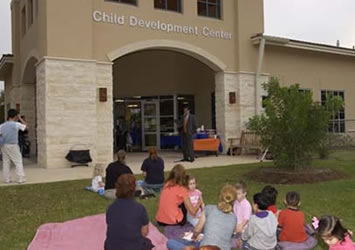 Share this Story
(Nov. 15, 2013) -- The UTSA Child Development Center (CDC) at the Main Campus is accepting applications for the early care and education waiting list for enrollment of infants, toddlers and preschool-age children for the spring semester beginning Jan. 13, 2014.
The center provides the highest level of quality early care and education and has earned accreditation from the National Association for the Education of Young Children (NAEYC), the nation's leading organization of early childhood professionals. This award designates the UTSA Child Development Center as one of the top in the nation. Only about 8 percent of preschools and other early childhood programs achieve this accreditation.
"We're proud to have earned the mark of quality from NAEYC, and to be recognized for our commitment to reaching the highest professional standards," said Earlene Gonzales, CDC director. "NAEYC accreditation lets families in our UTSA community know that children in our program are getting the best care and early-learning experiences possible."
As an NAEYC-accredited program, the CDC supports NAEYC's commitment to utilizing the newest studies and analysis on positive child outcomes to ensure young children continue receiving the highest-quality care and education possible. The NAEYC system was created to set professional standards for early-childhood education and to help families identify high-quality preschools, child care centers and other early education programs.
To earn NAEYC accreditation, a program must meet each of the 10 NAEYC early childhood program standards and maintain high quality through ongoing evaluation and improvement. Programs are accredited by NAEYC for a five-year period. UTSA CDC is accredited through October 2016.
The UTSA center was started more than a decade ago with a commitment from the university to help student families attend and graduate by providing child-care services through the Student Life division of Student Affairs. Additionally, the center collaborates with the College of Education and Human Development to provide opportunities for UTSA students to participate in service learning, classroom observations and research projects related to early childhood education.
During spring semester 2014, the center will collaborate with the COEHD on a research project, La Clase Mágica Preescholar (The Magic Preschool Class), to be conducted by Mari Riojas-Cortez from the Department of Interdisciplinary Learning and Teaching. The project is designed to provide learning opportunities for young children through the use of technology, specifically iPad minis.
>> Learn more information about NAEYC accreditation.
>> For more information and to add your child's name to the waiting list, visit the UTSA Child Development Center website.