UTSA Alumnus Manny Longoria '97 Funds New Endowment for Student Service Learning, Leadership Initiatives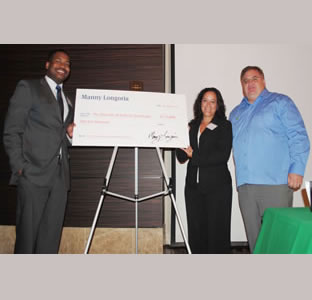 Share this Story
(Nov. 26, 2013) -- UTSA alumnus Manny Longoria '97, a founding member of the Volunteer Organization Involving Community Education and Service (VOICES), has established the Longoria Endowment for Service Learning and Leadership Initiatives. The $55,000 endowment will be funded through a combination of both personal and corporate matching gifts. The endowment will support volunteer, service-learning and leadership initiatives at UTSA.
"I have seen the lifelong impact that service-learning, volunteerism and leadership training have had on countless students at UTSA, including myself," said Longoria, who is a life member of the UTSA Alumni Association. "I am proud to be able to help UTSA continue to foster these traits in its students, and I hope that I inspire more alumni to give back to the university."
Longoria, who currently owns a Nationwide Insurance Agency, and his wife, April, formally presented their gift to Nico Cousby, UTSA VOICES president, at the organization's 20th anniversary banquet.
"We at VOICES thank Mr. Longoria for his contributions to the efforts of student-led service to our community," said Cousby. "My fellow students and I will be able to participate in a variety of service opportunities while keeping our experiential opportunity trips at a low cost."
In 1993, Longoria was one of four student leaders selected by Rena Sardo-Buley, then UTSA assistant director of student activities, to attend the Campus Outreach Opportunity League (COOL) Conference at the University of Illinois.
Longoria and fellow students Tom Brown, Rosa Mina and Carl Muniz, returned from the conference inspired to promote community involvement and leadership within the UTSA community.
That fall, VOICES, named for a poem the founders heard at the COOL Conference, became an official UTSA organization. Since then, VOICES has grown to become more than 200 members strong.
"We came back to UTSA with our heads full of all these ideas," recalled Longoria. "We were inspired to create an organization on campus to serve the community. It's astonishing how much the organization has grown since then. I feel an immense pride to know that I was able to help build that, and that I can continue to support such efforts."
To honor Longoria, VOICES has renamed its annual Volunteer of the Year Award to the Manny Longoria Volunteer Award. The annual award is presented each spring to the VOICES member with the most volunteer hours each year.
For more information about giving to student activities or organizations, contact Brian Mannas at 210-458-5119 or Brian.Mannas@utsa.edu. To learn more about corporate matching gifts, visit our website at http://giving.utsa.edu/matchyourgift.
Connect with UTSA online at www.utsa.edu, www.facebook.com/utsa, www.twitter.com/utsa or www.youtube.com/utsa.
-----
VOICES meets at 5 p.m. each Wednesday in the University Center Retama Auditorium (UC 2.02.02). To learn more, visit the VOICES office in H-E-B University Center Room 1.216 or visit www.utsavoices.org.