UTSA to host second annual Family STEM Day activities Nov. 16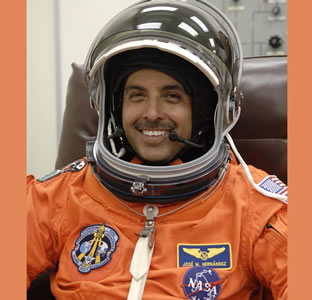 Share this Story
(Nov. 13, 2013) -- The University of Texas at San Antonio will commemorate STEM Week in San Antonio by hosting the second annual STEM Family Day from 9 a.m. to 2 p.m., Saturday, Nov. 16 in the H-E-B University Center on the UTSA Main Campus.
The event is one of a series of activities and is sponsored by the Hispanic Chamber CORE4 STEM, UTSA and St. Philip's College. The partnership is bringing together more than 3,000 San Antonio area middle school students and their families to discover STEM career opportunities through free hands-on educational experiences. STEM careers are in science, technology, engineering and mathematics.
At 9 a.m. in the H-E-B University Center Ballroom, NASA astronaut Jose Hernandez will make a special video presentation. He will discuss how he made history in 2009, when he became the first astronaut to tweet in Spanish as a crewmember aboard the STS-128 Discovery shuttle mission to the International Space Station.
The remainder of the morning will feature more than a dozen STEM sessions hosted by representatives from the mathematics and scientific communities in San Antonio. Presentation topics include anatomy, solar energy, cyber security, robotics and nanotechnology.
At 1 p.m., families will be treated to a lunch hosted by the Entrepreneurs Organization of San Antonio in the H-E-B University Center Ballroom.
"San Antonio continues to experience growth in the STEM fields," said Belinda Harmon, UTSA director of community outreach. "UTSA Family STEM Day is an outreach event investing in the future workforce needs of the greater San Antonio area. Our goal is to have these events continue to grow and impact the career goals and dreams of our youth."
Connect online at STEM Family Day at UTSA or contact Belinda Harmon at 210-458-2904 or belinda.harmon@utsa.edu.