UTSA hosts ceremony saluting armed services members on Veterans Day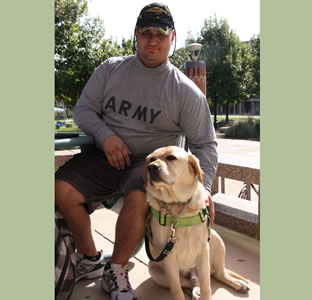 Share this Story
(Nov. 12, 2013) -- The UTSA Downtown Campus community honored those who serve and served our country in the armed services at an 11 a.m. ceremony on Veterans Day, Nov. 11.
As military representatives and dependents read the 250 names from the 2013 National Roll Call of those who gave their lives, a bell was sounded in their honor. Each name was read, knowing that they were someone's son, daughter, father, mother, brother, sister, aunt, uncle, cousin, loved one, friend, co-worker, classmate or battle buddy. Each of the fallen leaves behind unfulfilled dreams, and we are humbled by the sacrifice they made.
Additionally, speakers expressed their gratitude and support for veterans who now are UTSA students. At the ceremony, UTSA staff distributed yellow ribbons and provided an opportunity to write thank-you notes to be distributed to veterans across the city.
The UTSA Student Veterans Association, the UTSA Veterans Services Advisory Committee, Army ROTC and Air Force ROTC planned a series of UTSA events for Veterans Day. Paul Benevides, a social work graduate student and the Downtown Campus representative for the Student Veterans Association, took the lead in planning the National Roll call and wreath laying ceremony at the Downtown Campus.
"It's important that we stay connected with our UTSA community because the SVA supports and advocates for the student veterans of UTSA," said Benevides. "The SVA membership was honored to participate in the roll call by calling out the names of service men and women that gave the ultimate sacrifice in serving our country."
The readers of the names of fallen veterans included SVA members Staff Sgt. Julie Gilmore, U.S. Army; military dependent Gary Ibave; Specialist Tessa Marsh, U.S. Army; Hospital Corpsman Second Class Matt Hachman, U.S. Navy; and Petty Officer Third Class Jason Anthony Rose, U.S. Navy.
The historical significance of Nov. 11 is that in the 11th month on the 11th day at the 11th hour, the peace treaty was signed to end World War I, which was called "the war to end all wars."
Originally called Armistice Day to mark the end of World War I, it was changed to Veterans Day in the United States in 1954 to honor all veterans and the war dead.
President Dwight Eisenhower's Veterans Day announcement: "I, Dwight D. Eisenhower, president of the United States of America, do hereby call upon all of our citizens to observe Thursday, Nov. 11, 1954, as Veterans Day. On that day, let us solemnly remember the sacrifices of all those who fought so valiantly on the seas, in the air and on foreign shores to preserve our heritage of freedom, and let us reconsecrate ourselves to the task of promoting an enduring peace so that their efforts shall not have been in vain."
>> View more photos on the UTSA Facebook page.