UTSA Department of Art and Art History hosts B.F.A. fall exhibit through Dec. 18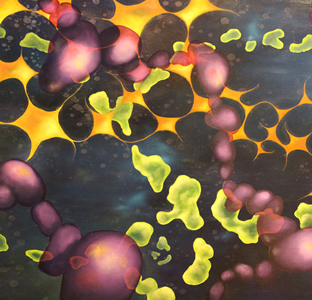 Share this Story
(Dec. 12, 2013) -- The UTSA Department of Art and Art History announces the 2013 B.F.A. Fall Exhibition running through Dec. 18 in the UTSA Art Gallery on the Main Campus.
These emerging artists and UTSA bachelor of fine arts degree candidates work in the full range of traditional methods and materials as well as in interdisciplinary and new media. Themes range from social and cultural critique to investigations that are challenging and exquisite explorations in creative form and image.
>> Free and open to the public, a closing reception will be 2-4 p.m., Wednesday, Dec. 18 at the gallery.
The 31 participating artists are:
Rachael Acosta
Brandi Adams
Matthew Anderson
Owen Bush
Nadia Butt
Christy Campbell
Madison Cowles
Rachel Covarrubia
Giselle Diaz
Heather Dunn
Elayne D. Estrada
Kelsi Frost
Jason E. Gonzales
Vanessa L. Hollingsworth
Eduardo Hults
Davis James
Justin Kaufman
Abigail Marquez
Nely Mendoza
David Moras
Sheridan O'Neal
La Tasha Parham
Ashley Parr
Mitchell Pegoda
Ray Perez
Jason Rudd
Lindsay Smith
Kat Tabuchi
Michelle G. Treviño
Karla A. Valdez
Evan Wagoner
Gallery hours are 10 a.m.-4 p.m., Tuesday-Friday; 1-4 p.m., Saturday; and by appointment. The gallery is closed Sunday and Monday. Exhibitions are free and open to the public.
For more info, contact Laura Crist at Laura.Crist@utsa.edu at 210-458-4391.
------------------------------
Directions: The UTSA Art Gallery is in the Arts Building on UTSA Main Campus, One UTSA Circle, San Antonio, Texas 78249. From Interstate 10, take exit 557 to UTSA Boulevard going west. At the first traffic light, turn right onto Valero Drive. Turn left onto East Campus Drive and then make an immediate right into ECL/Lot 13. Shuttle buses travel directly to the Arts Building.