California middle school eighth-grade class adopts UTSA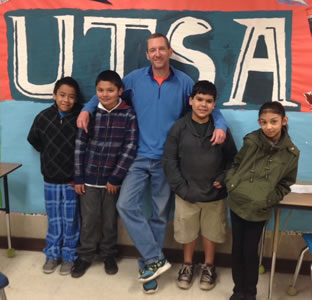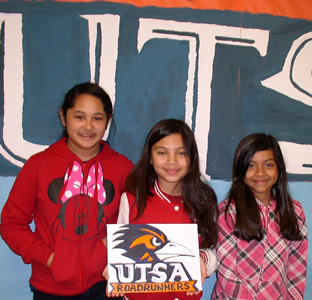 Share this Story
(Dec. 24, 2013) -- In 2008, faculty and administrators at Holland Middle School in Baldwin Park, Calif., embarked on a new project to encourage students to think about pursuing a college degree and what they would need to do academically to be accepted to a university.
Names of different universities would be submitted annually for "adoption' consideration and the students would research each university nominated then vote to choose one.
Winning schools selected have included, the University of Southern California, the University of California at Los Angeles and California State University, Fullerton.
This year, selected by students in teacher Bradley Kuehfuss' eighth-grade class, was The University of Texas at San Antonio.
Kuehfuss knew about UTSA after years of correspondence through an online international running club with fellow runner Scott Kabrich, a prospect researcher for development in the UTSA division of External Relations.
One of Kabrich's colleagues directed Kuehfuss to Belinda Harmon, director of community outreach in the Office of P-20 Initiatives at the UTSA Downtown Campus. Harmon sent the school a classroom packet of UTSA memorabilia that the students could use to decorate their classroom and show their support for the Roadrunners.
To show their appreciation, the students sent Harmon a photo and individual thank-you notes.
"Their teacher is planting seeds of educational aspiration in these young students and we were so thrilled to play even a small part in this request," said Harmon.
According to Harmon, out-of-state requests for UTSA classroom packets with memorabilia are not uncommon. The Office of P-20 Initiatives has sent packets to Russia, Japan, California, Kansas, West Virginia, South Carolina, New Mexico and Massachusetts.