Call for proposals: UTSA Student Affairs Conference is March 20, April 4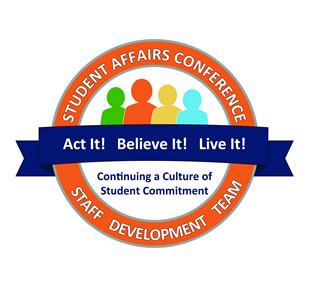 Share this Story
(Dec. 12, 2013) -- The UTSA Division of Students Affairs will host it sixth annual Student Affairs Conference on Thursday, March 20 and Friday, April 4, 2014. UTSA graduate students, faculty, staff, alumni, supporters, community members and staff members from area universities are invited to attend or do a presentation. This year's theme is "Act It, Believe It, Live It: Continuing a Culture of Student Commitment."
Sponsored by the Student Affairs Staff Development Team, the annual conference provides UTSA Student Affairs staff members the opportunity to attend a professional development conference. New this year, to further enhance both professional development and networking opportunities, the conference is open to colleagues from across UTSA and other local institutions.
>> If you would like to share your expertise with fellow staff members by presenting at the conference, submit a proposal by Jan. 8, 2014. Download the proposal form.
Topics for presentation include leadership, team building, customer service, student success, student learning, supervision, distinct student populations and much more. Note that the conference is presented on two days to allow for maximum attendance for all staff in the Division of Student Affairs. Presenters must commit to attend both conference dates. Those selected to present at the conference will be notified Jan. 31, 2014.
For more information or for help submitting a proposal, email Steve Kudika and Tammy Casas.