UTSA students travel to four states to explore civil rights issues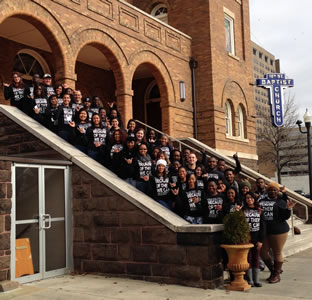 Share this Story
(Jan. 16, 2014) -- Forty-one students from The University of Texas at San Antonio (UTSA) took a four-day sojourn across four states Jan. 7-11 to participate in this year's UTSA Civil Rights Exploration Trip.
"The Exploration: Exploring Social Justice for All," sponsored by the UTSA Student Leadership Center, took the students on a journey through several historical markers in New Orleans, La., Birmingham, Ala., and Memphis, Tenn. The program allowed the students to visit several monumental locations in the history of the civil rights and social justice in order to work toward positive change for the future.
"I think it's important to have an experience like this because it allows you to have a more in-depth understanding of history and what my ancestors had to go through in order for me to be where I am today," said Ciarrah Williams, junior public relations major. "It just proves that anything is possible if you want it bad enough."
The trip made stops at the New Orleans Lower Ninth Ward, the Birmingham Civil Rights Institute, the Sixteenth Street Baptist Church, Kelly Ingram Park and the National Civil Rights Museum. Students also toured the downtown area of Memphis, where they visited the Slave Haven Underground Railroad, the Mason Temple Church of God in Christ Headquarters where Martin Luther King Jr. (MLK) gave his last speech, "I've Been to the Mountaintop," the Stax Museum of American Soul Music and the W.C. Handy Museum. Many students who participated in the trip also will take part in the MLK March in San Antonio on Jan. 20.
"I would absolutely recommend the trip to anyone who is interested in attending, regardless of race or ethnicity," said Hannah Beck, junior political science major. "It was important for me to be able to learn more about a part of history that isn't discussed much in the public school system, and to learn using a hands-on approach. I loved the chance to visit major historical sites and the flexibility that allowed me to explore the parts of the Civil Rights Movement that intrigue me most. I'm very grateful to the SLC for making this trip happen."
The students followed a set curriculum created to promote awareness of social justice issues. Students learned through documentaries, journaling, photo journaling, group discussions, and presentations from guest speakers and activists. A new component to this year's trip was student facilitators. Students who participated in one of the previous trips, The Movement and The Progression, were encouraged to apply and interview for the role.
Four current UTSA students were selected and participated in facilitator training sessions leading up to the trip. They also assisted with the orientation meetings that participants were required to attend prior to the trip. During the trip they facilitated small group discussions each night after the day's tours and activities.
This provided participants with the opportunity to ask questions and process what they learned during the day. This model also provided the student facilitators with the next level of leadership development by leading the small groups and serving as mentors to the participants.
"My experience as a student facilitator can be described by simply stating 'To share your weakness is to make yourself vulnerable; to make yourself vulnerable is to show your strength,'" said Christian Ume-Ezeoke, student facilitator and senior community health major. "I had never been through anything previously where I had experienced such an opportunity for personal growth. I had to critically reflect on how my past experience as a participant could be integrated into my new role as a student facilitator. I had to consider the lenses through which I saw my fellow participants since I had previously been in their place last year."
For information on this experience and additional leadership development opportunities, contact the UTSA Student Leadership Center at 210-458-7967 or leadership@utsa.edu, or stop by the center at its temporary location in the Student Center for Community Engagement and Inclusion, University Center Room 2.01.04, on the Main Campus.