UTSA public policy lecture series hosts sociologist Eduardo Bonilla-Silva Jan. 16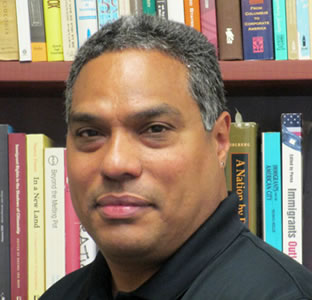 Share this Story
(Jan. 13, 2014) -- The UTSA College of Public Policy will present a lecture by renowned sociology professor Eduardo Bonilla-Silva at 5:30 p.m., Thursday, Jan. 16 in the Durango Building Southwest Room (1.124) at the Downtown Campus. The event is free and open to the public.
The lecture, "From King to Obama: Explaining Racism in Post-Racial America," will focus on the public perception of racism by the American public in light of President Barack Obama's election to a second term, the country's long history of racial issues and what it means to live in a "post-racial" society.
"Eduardo Bonilla-Silva is a nationally recognized expert in race and social theory," said Rogelio Saenz, dean of the UTSA College of Public Policy. "In a time when many are trying to paint the U.S. as having transcended the racial inequalities of its past, it is important to question how deeply ingrained these inequalities have become in the very power structure of our nation."
Bonilla-Silva is a professor of sociology and chair of the sociology department at Duke University in Durham, N.C. His research areas include racial stratification, critical race methods and political sociology.
To date, he has written five books on race in the United States including "Racism without Racists: Color-Blind Racism and the Persistence of Racial Inequality America," published in 2013. He has published articles in journals such as Sociological Inquiry, Racial and Ethnic Studies, the Journal of Latin American Studies, and the Annals of the American Academy of Political and Social Science.
In 1997, his American Sociological Review article advocating a structurally focused approach toward analyzing racial matters, "Rethinking Racism: Toward a Structural Interpretation," garnered him wide visibility in the field of social sciences. He has appeared as an expert on race and sociology on media outlets including the Huffington Post and, most recently, the PBS election 2012 special, "Race 2012," which focused on race and politics.
Bonilla-Silva is a recipient of the 2007 Lewis Coser Award by the Theory Section of the American Sociological Association for Theoretical Agenda Setting and the 2011 Coz-Johnson-Frazier Award by the American Sociological Association. He received a Bachelor of Arts in Sociology degree from the University of Puerto Rico, Rio Piedras and Master of Arts and Ph.D. degrees in sociology from the University of Wisconsin-Madison.
The UTSA College of Public Policy Dean's Distinguished Lecture Series features scholars and policy analysts on a variety of major issues that affect the community, the nation and the world. Free parking is available in lot D3 under Interstate 35. A public reception will follow the lecture in the Buena Vista Street Building Assembly Room (1.338).
For more information about the lecture or to reserve a seat, contact Erin Jines at 210-458-3213. A webcast of the lecture will be available on NowCastSA.com.