UTSA Financial Aid and Enrollment Services names director of enrollment services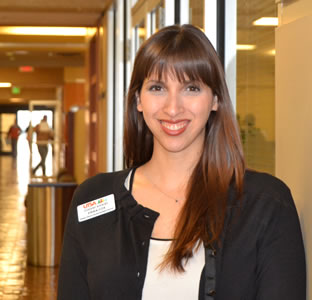 Share this Story
(Jan. 27, 2014) -- The UTSA Office of Student Financial Aid and Enrollment Services has named Erika Cox as director of enrollment services. Cox previously was associate director of enrollment services and has 10 years of experience in various enrollment services capacities.
"Student Enrollment Services provides a one-stop shop for students, ensuring they are set up for success," said Lisa Blazer, associate vice president for financial aid and enrollment services. "Whether it is registration, financial aid, tuition and fee payments or PIN and password resets, they interact with students on a daily basis.
"As we move toward Tier One, it will be imperative for Enrollment Services to provide quality service that helps prospective and current students navigate through many enrollment processes. Ms. Cox has already proven that service is her number one priority as the lead for the call center, and I believe she is the ideal person to move us to the next level of service as the new director for enrollment services at UTSA."
In addition to her prior post as associate director, Cox brings a wide array of enrollment services expertise to the position including experience as a member of the call center team as supervisor, senior training specialist and communications point person for enrollment services.
She also is highly involved in professional associations. She has presented at the National Association of Student Financial Aid Administrators (NASFAA) annual conference and the Texas state conference of the association. She also served as conference chair for the group's Southwest region.
"The staff in Enrollment Services is dedicated to helping students enroll and be successful at UTSA," said Cox. "Having the opportunity to lead this team as UTSA continues its path toward Tier One status is an honor, and I look forward to collaborating across campus to make students' enrollment experience go smoothly."