UTSA center welcomes new associate director to enhance service-learning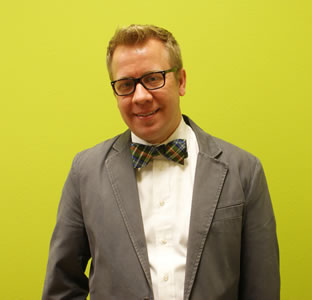 Share this Story
(Jan. 20, 2014) -- The UTSA Student Center for Community Engagement and Inclusion welcomes Brian Halderman, LMSW, as associate director of service-learning. Halderman joins the center after working with a local child welfare agency and several years of experience in higher education at St. Mary's University, both as staff and adjunct faculty. He holds a bachelor's degree from the University of Dayton and a Master of Social Work degree from Washington University in St. Louis.
>> Members of the UTSA community can meet Halderman at the upcoming Volunteer Fairs sponsored by Volunteer Services at the Main Campus University Center windows lounge from 11 a.m. to 1 p.m., Wednesday, Jan. 29 or at the Downtown Campus Frio Street Building Commons from 11 a.m. to 1 p.m., Wednesday, Feb. 5.
"We are enthusiastic to have Brian part of the team. He brings a wealth of experience, and we look forward to him working with our faculty and enhancing service-learning initiatives for our students," said Yvonne Pena, assistant dean of students. "I am excited to begin working with faculty and students engaged in service-learning. I hope to build on the good foundational work that has been accomplished and continue to foster partnerships with departments, faculty members and the broader San Antonio community to enhance our institutional efforts in service-learning."
The service-learning initiative of the center serves as a great resource to faculty who are engaged in or to those interested in teaching service-learning courses. Learn more about service-learning at the UTSA Student Center for Community Engagement and Inclusion website.