Meet a Roadrunner: UTSA student Elliott Nelson is known as 'Hammock Guy'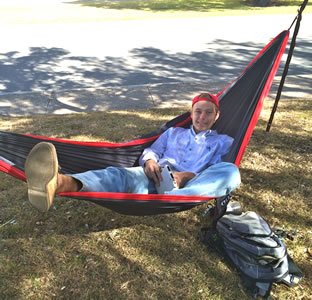 Share this Story
(Jan. 22, 2014) -- Meet Elliott Nelson -- otherwise known as "Hammock Guy."
You may have spotted Elliott hanging from the beautiful oak trees around the UTSA Main Campus this semester. A native of San Antonio, this junior marketing major appreciates the slower side of life that relaxing in a hammock invites.
"Hammocks are so comfortable, they make you relax and in general they are just very calming," he said. "Once the semester gets into full swing and midterms and finals come around, I will definitely be studying in the hammock a lot."
Students relaxing in hammocks between classes are nothing new to university life. In fact, several universities across the country have welcomed hammock use as part of their campus culture. They're easy to set up, lightweight, compact and portable.
Elliott's life isn't always calm. In fact, he's an enthusiastic member of the UTSA Climbing Club through Campus Rec and participates in weekend climbing trips and collegiate climbing competitions across the state.
"In addition to climbing, I also love to camp," he said. "Instead of bringing a tent, I just bring my hammock and a sleeping bag and that's all I need most of the year."
Incidentally, Elliott may have started a trend at UTSA. He says that some of his climbing buddies plan to buy their own hammocks, so UTSA may soon see more hammock sightings in various places around campus.
------------------------------
Do you know someone at UTSA who has an interesting story to tell? Email us at social@utsa.edu and we will consider your submission for an upcoming installment of Meet a Roadrunner.