Open Compute Project Foundation establishes certification, solution lab at UTSA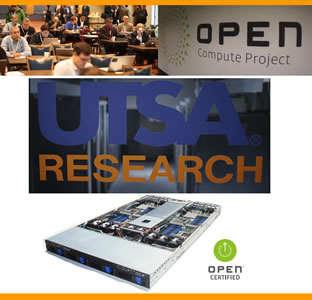 Share this Story
(Jan. 28, 2014) -- Read quotes from partners in the Open Compute Certification and Solution Laboratory:
AMD:
"We're thrilled that the AMD Open 3.0 platform has gained Open Compute certification and is now being used in the first and only Open Compute certification lab in North America," said Suresh Gopalakrishnan, corporate vice president and general manager, Server Business Unit, AMD. "This collaboration demonstrates AMD's strong commitment to the open compute movement and open technologies."
AMD media relations contact:
Matt Kimball
matthew.kimball@amd.com
512-413-4571
Mellanox:
"Mellanox has been an OCP supporter and contributor since inception," said Kevin Deierling, vice president of marketing at Mellanox Technologies. "Developing a meaningful and scalable compliance and interoperability charter is critical to the success of any open standard. We're pleased to support and contribute to OCP C&I efforts at UTSA. Mellanox, with its end-to-end interconnect solutions, is well positioned to ensure C&I efforts extend to OCP Storage and OCP Network projects in the future."
Mellanox media relations contact:
Ashley Paula, Waggener Edstrom
apaula@waggeneredstrom.com
415-547-7024
Quanta:
"The Open Compute Certification and Solutions Laboratory at UTSA is the next critical step in building out the OCP ecosystem," said Mike Yang, general manager of Quanta QCT. "The work they are doing with their partners provides a reliable roadmap for enterprises and service providers seeking to deploy OCP solutions that meet rigorous and reliable standards, and Quanta QCT is honored to be an early and active supporter of this effort."
Quanta QCT media relations contact:
Robert Cathey
robert@cathey.co
415-871-0509
Avnet:
"Avnet has a longstanding history in supporting educational efforts, and this was a perfect fit for us from the beginning," said DaWane Wanek, director of strategic solutions enablement with Rorke Global Solutions, a business unit of Avnet Inc. (NYSE: AVT) Electronics Marketing group in the Americas. "Making OCP easier to consume for the next generation of engineers and enabling programs like the UTSA lab is a wonderful opportunity for us to contribute to the future of innovation, with untold payoff."
Avnet media relations contact:
Heidi Elliott
heidi.wlliott@avnet.com
480-643-7584
Seagate:
"Seagate joined the Open Compute Project in 2012 to help develop and promote open scalable storage technology and solutions for cloud. The new Open Compute Certification and Solution Laboratory at UTSA will be paramount serving as a much needed proving ground for open storage technology contributions, research, and education, said Ali Fenn, senior director of Seagate advanced storage. "As adoption of open source solutions grow interoperability, quality assurance, and on-going education is critical. Seagate is excited the talent and expertise of the Open Compute Certification and Solution Laboratory at UTSA is now part of the OCP community."
Seagate media relations contact:
Jon Piazza
jon.v.piazza@seagate.com
408-658-1715