Meet A Roadrunner: UTSA alumna Roxanne Bowman to volunteer in Cambodia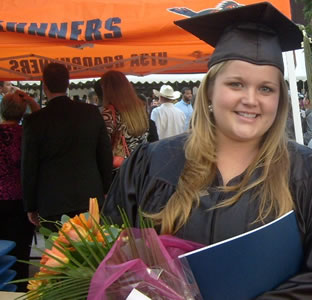 Share this Story
(Jan. 29, 2014) -- Meet Roxanne Bowman. Next summer, many San Antonians will pack their suitcases for a week at the beach, or maybe a weekend venture to the Texas Hill Country, but not Bowman. She will be taking a much longer trip, a trip not for relaxation, but to help the community in a Third World country.
For a month this summer, the May 2012 graduate of the UTSA College of Education and Human Development, will travel to Cambodia to work with the New Hope Volunteers HIV/AIDS Project, a worldwide volunteering program.
"It has always been a dream of mine to do something like this," said Bowman, who works full-time at the City of San Antonio's HIV/AIDS department.
According to the World Health Organization, of the 34 million people worldwide living with HIV, 76,000 are Cambodian.
Bowman will educate Cambodians about HIV and also will perform HIV tests. She also will work with HIV/AIDS-infected children, ages two to 18, in local orphanages alongside local doctors, nurses and other New Hope volunteers.
Bowman says UTSA played a major role in her passion for the study of infectious diseases and her desire to give back.
"I really want to make a difference in someone's life, whether it is in San Antonio or any other city in the world," Bowman said. "I want to bring back important lessons learned from the patients and workers in Cambodia. My hope is that my work inspires someone to change their behavior, to get tested and to educate others about HIV/AIDS."
>> For more information about Bowman's trip or to donate, visit the Volunteer Forever website.