UTSA campuses are on track for tobacco-free and smoke-free status June 1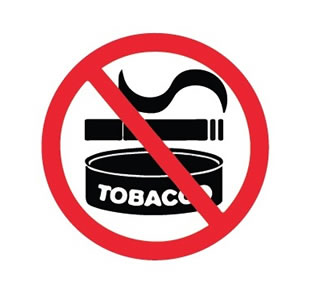 Share this Story
(Jan. 13, 2014) -- The UTSA campuses will be completely tobacco-free and smoke-free on June 1. The transition of the UTSA campuses to tobacco-free and smoke-free status began June 1, 2013. Essentially, the UTSA campuses are now tobacco- and smoke-free with a few exceptions.
Smoking and tobacco are confined to surface parking areas (but not garages) during a one-year transition period that began last June. Banners and signs with the graphic shown at right, have been placed around the UTSA Tri-campuses.
Through the transition, smoking and tobacco products are restricted to designated parking areas except for the Ximenes Avenue, Ford Avenue and Laurel Village parking lots, which are smoke- and tobacco-free like the rest of campus.
UTSA is committed to supporting students and employees who wish to stop using tobacco products. For students, resources are available through Student Health Services. For employees, resources are available through the Employee Assistance Program.
Members of the UT Select Health insurance plan can find information about tobacco cessation counseling and pharmacy benefits at the UT System Living Well website.
Below are Frequently Asked Questions about the changes for the UTSA community.
>> Read more about the background of the UTSA tobacco-free policy.
------------------------------
FAQ: UTSA Tobacco-free and Smoke-free policy
Q1. Are there designated smoking or tobacco use areas on campus?
A. During the transition period from June 1, 2013, to May 31, 2014, smoking and tobacco use will be restricted to sidewalks and walkways in and immediately adjacent to on-campus surface parking lots, with exception to the following lots:
Main Campus
Ximenes Avenue lot
Ford Avenue lot
Laurel Village lot (directly in front of the main office)
Downtown Campus
Monterey Building lot
HemisFair Park Campus
No restricted parking lots
Smoking will not be allowed in UTSA parking garages.
Q2. UTSA was smoke-free in buildings for many years. What led to the expansion of the policy in 2013 to cover all university grounds and all tobacco use?
A. Discussion about UTSA becoming tobacco-free began with requests from the UTSA Staff Council and faculty members to President Ricardo Romo. UTSA recognizes its social responsibility to promote the health, well-being and safety of all university students, faculty, staff and visitors.
Q3. How will the policy be enforced?
A. As an institution of higher education, education is key to implementing this policy. UTSA community members and visitors will be aware of the tobacco-free environment through electronic messaging, signs and other marketing. An explanation of the tobacco-free campus policy will be communicated to prospective and enrolling students and new employees. Additionally, event planners will be asked to include information about the policy in materials distributed to outside groups that use university facilities.
The expectation is there will be voluntary compliance with the policy. It is the shared responsibility of all members of the campus community to respect and abide by this policy.
Q4. What if people don't abide by the policy?
A. For visitors, reminders about the tobacco-free campus will be important. Organizers of campus events are responsible for communicating the policy to attendees. The university will provide messaging on university-affiliated materials, websites, vendor contracts and for special events. For students and employees, cooperation is expected with a policy that directly supports our ongoing research endeavors and other university initiatives. The university will evaluate reports of repeated concerns and implement actions for resolution using existing methods of enforcement for university policy violations.
Violations could result in referral to the appropriate university officials for disciplinary action in accordance with other established student, staff, and/or faculty codes of conduct and procedures.
Students: Any behavioral concerns associated with the tobacco-free policy by students will be reported to Student Conduct and Community Standards through the established behavioral referral form. The form is on the Student Conduct website.
Faculty, staff, contractors and visitors: Any behavioral concerns associated with the tobacco-free policy by faculty, staff, contractors and visitors will be reported to Audit, Compliance and Risk Services through the established compliance Web referral form or by directly calling the compliance hotline number at 1-877-270-5051. For the referral form and more hotline information, visit the ACRS website.
Q5. What should I do if I see a visitor using tobacco on university property?
A. The following is a suggested script to use as a helpful resource:

Situation: You see a person using tobacco products on UTSA property.
Response: "Hello. I want to make you aware that we are a tobacco-free campus. Tobacco products are prohibited on our grounds. We would appreciate if you would not use tobacco products while visiting our campus. Thank you for your cooperation."
Q6. Does the policy apply to areas within campus housing?
A. Campus housing will follow the current tobacco policy in the UTSA Housing Handbook until June 1, 2014. The current policy prohibits residents and guests from smoking in any building on campus including units, corridors, stairwells, and neighborhood or city centers or cit. Any smoking must take place 25 feet away from all outside entrances to any building.
Q7. Can persons smoke on city streets or sidewalks that cross the campuses?
A. UTSA has both university and city streets. The use of tobacco including smoking will be prohibited on all university-owned or university-controlled streets and sidewalks starting July 1, 2014. (There are university-controlled city streets and sidewalks only at the UTSA Downtown Campus.) The Tobacco-free Campus policy does not apply to city streets or sidewalks not owned or controlled by UTSA.
Q8. Does the Tobacco-free Campus policy apply at university-sanctioned events or sporting activities occurring at off-campus property (i.e., Alamodome)?
A. The Tobacco-free Campus policy applies only to university owned, operated, leased, occupied or controlled property. Events or activities scheduled off campus are bound by the policies and procedures set by the property or property manager.
Q9. What is the UTSA definition of a prohibited tobacco product for this policy?
A. All forms of tobacco products including but not limited to cigarettes (of any kind including herbal/spice cigarettes), cigars, pipes, water pipes (hookah), bidis, kreteks, electronic cigarettes, smokeless tobacco, snuff and chewing tobacco. (Note: Medications with controlled amounts of nicotine that are used to aid in quitting smoking are not considered tobacco products. A list of these medications can be found at the SmokeFree.gov website.
Q10. Are there signs to tell people they can't use tobacco?
A. Notices bearing the message "Tobacco-Free Campus" and signs with the international symbol for "tobacco-free" or something similar will be posted at major vehicular, pedestrian and building entrances. However, the Tobacco-free Campus policy applies to all university property, whether or not a notice or sign is posted.
Q11. What will the university do if there are reports by property owners adjacent to campus involving tobacco litter?
A. UTSA officials will work with business and other property owners adjacent to university properties to address their concerns about the possibility of litter being left behind by tobacco users from a UTSA campus.
Q12. Have other universities implemented a tobacco-free campus?
A. Yes, some as early as 2003, and the number continues to increase. More than 600 college and university campuses across the United States have smoke- or tobacco-free campuses. In the UT System, Arlington, Brownsville, M.D. Anderson Cancer Center, Southwestern and Austin are tobacco-free. Texas State University, Austin Community College and all San Antonio Alamo Colleges also are tobacco free.