Welcome back! Nearly 29,000 UTSA students begin classes Jan. 13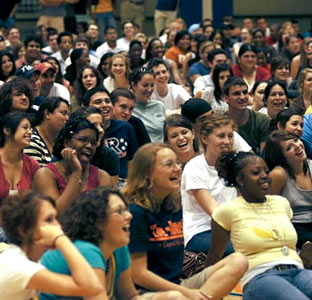 Share this Story
(Jan. 13, 2014) -- Welcome back to UTSA! Spring classes begin today at The University of Texas at San Antonio, and nearly 29,000 students will be back on campus after the winter break.
Additionally, more than 1,400 faculty members and 2,700 staff have returned to help guide UTSA students through their academic careers in the classroom and with numerous support services. UTSA provides access to excellence for a diverse group of students. Many are high achievers who are the first in their families to attend a college or university.
Students can take advantage of Campus Recreation facilities at the Main and Downtown campuses to maintain their fitness and health. Additionally, Student Health Services has clinics at both campuses to provide wellness programs and care. Students also can count on the Tomas Rivera Center for Student Success for support in their academic endeavors.
There also are plenty of activities and entertainment opportunities for UTSA students. Events in January include:
The University Center will offer free movies on Friday and Saturday nights throughout the semester.
UTSA Athletics will host men's basketball games Jan. 11 and 30 and women's basketball games Jan. 15 and 25. Students are admitted free to all athletics activities by showing their UTSACard.
The Department of Music will present "Student Recital: Marco Reyes, Trombone" on Jan. 16, "Faculty Recital: Stephanie Westney Presents a Dvorak Festival" on Jan. 23, a Faculty Chamber Recital on Jan. 30 and "Guest Recital: Hal Reynolds, Trombone," also Jan. 30.
On Jan. 20, UTSA students will participate in the annual Martin Luther King Day March, hosted by the City of San Antonio.
The College of Business will host a Business Involvement Fair Jan. 21-22 with information on registered business organizations. The Student Organization Information Fair is Jan. 22 at the Downtown Campus.
The Department of Art and Art History will present "For All the World to See: Visual Culture and the Struggle for Civil Rights" in January and February, with reflections of the African-American experience through art, films and discussion.
Check UTSA Today every day for information on special events throughout the semester.