UTSA community members to be honored at 40 Under 40 Awards Feb. 6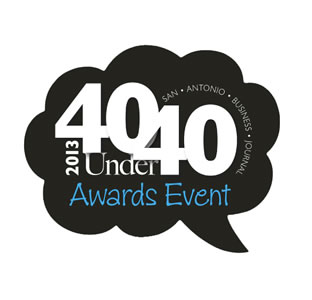 Share this Story
(Feb. 4, 2014) -- The San Antonio Business Journal will host the 40 Under 40 Awards event Feb. 6 at the Westin Riverwalk hotel. Among the winners is John T. Foster, UTSA assistant professor of mechanical engineering. The keynote speaker at the 18th annual awards luncheon will be Graham Weston, Rackspace chairman of the board.
Because this year brought many extraordinarily talented entries, the Business-Journal also will honor the 22 runners-up. Among them are two UTSA community members: Christi Fish, director of communications, and Sedef Doganer, assistant professor of architecture.
Each winner was asked the question, "What's your schtick?" They provided two answers in the form of "Aptitude" -- one word or phrase that described their career skills -- and "Attitude" -- one word or phrase that characterized their personality.
According to the Business-Journal, John T. Foster responded to the questions this way – Aptitude: Compute and Attitude: Scholarly.
Foster said the first part of his career was spent building expertise in high-performance computing and engineering simulations. This involved self-education and learning at the Sandia National Labs, a federally funded research-and-development giant.
At UTSA, Foster teaches undergraduate and graduate students and enjoys applying his expertise in computational simulation to solving complex engineering problems. His work with hydraulic fracturing simulations is closely related to the important Eagle Ford Shale in South Texas. He also manages more than $2 million of awarded research grants and devotes many hours to mentoring students.
The winners were selected by a Business Journal committee. Each committee member read every nomination and voted separately. The winners are people with "professional savvy, community chutzpah and skillsets with a certain je ne sais quoi.
For more information about the event, email saevents@bizjournals.com.