UTSA to host Black History Knowledge Bowl Feb. 18 in University Center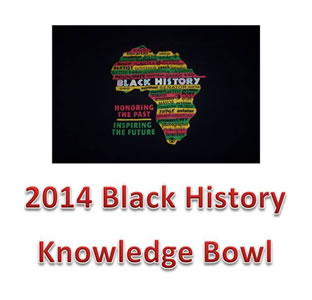 Share this Story
(Feb. 5, 2014) -- The UTSA Black Faculty and Staff Association will host the 2014 Black History Knowledge Bowl at 6 p.m., Tuesday, Feb. 18 in the University Center Denman Room (2.01.28) on the Main Campus. Teams will compete in a double elimination tournament to find out which team knows the most about African-American history. The top three teams will share a cash prize totaling $2,100. 
>> This event is open only to currently enrolled UTSA students. Team registration is available at Roadrunner Express in the University Center. The deadline to enter the competition is 6 p.m., Monday, Feb. 17. The cost is $5 per person with a minimum of three and a maximum of five players on a team. For more information, email Mallory Banks or Tony Daniels.
The objective of the Knowledge Bowl is to foster an environment of interactive learning and expansion of historical knowledge of American history through the efforts of African-American contributors. The Black History Knowledge Bowl is an official program during UTSA Black History Month festivities.
Students of all backgrounds are encouraged to learn about innovative, musical, political, social, linguistic and other contributions of African-Americans that shape and support society as a whole today and affect the UTSA community culture. Students are empowered by identifying with historical figures from ethnic backgrounds of underrepresented populations.
The event is sponsored by Sonja Lanehart, professor and Brackenridge Endowed Chair of Literature and the Humanities, African American Studies; John Frederick, provost and vice president for academic affairs; Office of the President; Office of Information Technology; Student Center for Community Engagement and Inclusion; African American Literatures and Cultures Institute; Department of English; College of Architecture; Honors College; College of Sciences; College of Liberal and Fine Arts; College of Engineering; College of Business and College of Public Policy.