UTSA Student Leadership Center sends students to inspiring conference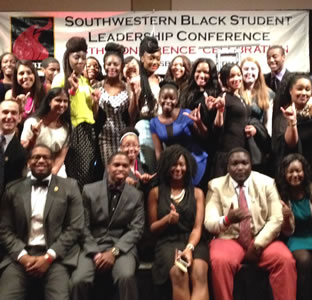 Share this Story
(Feb. 4, 2014) -- The UTSA Student Leadership Center hosted 30 students at the 2014 Southwestern Black Student Leadership Conference (SBSLC) at Texas A&M University in College Station, Texas. Among the group of 30 students were five SBSLC alumni who were accepted to return as part of the Advanced Leadership Institute within the conference.
This year's institute participants included Nicolaus Cousby, Zachary Dunn, Alexis Gillum, Courtney Hunter and Christian Ume-Ezeoke. The Jan. 16-19 conference had more than 550 participants.
The 26th annual conference included inspiring keynote speakers such as Hakeem Oluseyi, Angela B. Murray and Rachelle Clack, who spoke on the conference's theme, Leaders Over Limits. The conference had the annual Poetry Slam, workshop sessions, town hall meetings, an oratorical contest, entertainment night, a collegiate social and a closing banquet featuring keynote speaker Judy Smith, founder and CEO of crisis management company Smith & Company. She also is a consultant for the ABC TV show, "Scandal."
The Student Leadership Center selected diverse students from across the university to represent UTSA. The students were challenged to bring their experiences back to UTSA to better serve their community. To reflect on their personal experiences during the conference, each student was provided with a journal at the beginning of the four-day trip. Their inspired entries and journals will be passed to the students attending the conference next year.
Some of the students shared their insights:
"SBSLC gave me the opportunity to network and develop the leader within myself. The workshops were relevant to my real-life situation and opened opportunities for me to grow personally and professionally." -- Jasmine Jackson, sophomore criminal justice major
"My experience at A.L.I. was one of the most engaging leadership experiences I have had in my collegiate career. Over the course of the conference, we were challenged both as individuals and as a group to think about leadership in ways we had been previously unexposed to. I would recommend this conference to any student who is looking to take their leadership experience to the next level." -- Zack Dunn, junior finance major
"My experience at SBSLC was phenomenal. I met and bonded with so many like-minded student leaders. It was so rewarding to see others students do great things from other campuses all over the nation." -- Courtney Hunter, junior marketing major
"Coming together I feel we gained more insight on what it truly means to be a leader, and this experience further enforced that as leaders we can overcome any limits or obstacles. My involvement with the Advanced Leadership Institute taught me that people don't choose to follow a leader because of what they do, they follow a leader because of why they choose to be a leader." -- Christian Ume-Ezeoke, senior community health major
For more information about programs and events, visit the UTSA Student Leadership Center temporary location in University Center Room 2.01.04 or visit the SLC website.