UTSA concludes training for small-business counselors, directors in Costa Rica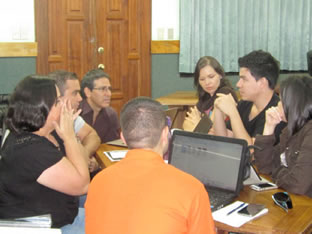 Share this Story
(Feb. 25, 2014) -- The International Trade Center at The University of Texas at San Antonio (UTSA) Institute for Economic Development concluded its four-module Small Business Development Center (SBDC) Counselor and Director Certificate Training in Costa Rica. It was the second certificate training program that UTSA has led in Costa Rica. More than 70 participants graduated representing the public, private and higher education sectors.
SBDCs, established throughout the United States by the federal government in partnership with state governments and universities and colleges, assist entrepreneurs and business owners in establishing and growing their businesses through a free and confidential suite of advising services. Services include, but are not limited to, feasibility studies, business strategies, financial planning, marketing, production and professional networking. The centers support new and existing businesses.
The goal of the SBDC Counselor and Director Certificate Training is to transfer the SBDC model methodology and train professionals on how to manage and operate an economic impact-producing SBDC. This training is part of the International Trade Center and Institute for Economic Development International SBDC Expansion Initiative that, with the support of the U.S. Department of State, has been helping countries develop U.S.-modeled SBDC networks in the Americas since 2003.
UTSA South-West Texas Border SBDC Network Director Al Salgado and UTSA International Trade Center International Business Consultant Julio Garcia de las Mestas conducted the final module of the Counselor and Director Certificate Training and presided over the graduation ceremony.
"Costa Rica's vision to create a network of sustainable and successful small-business assistance centers will soon be reality and will join the many SME networks throughout the Western Hemisphere based on the proven U.S. Small Business Development Center Model," said Salgado. "Costa Rica will become part of President Obama's Small Business Networks of the Americas initiative to increase available resources for small businesses, expand SME assistance and provide the framework to link all entrepreneurs in the Western Hemisphere. We are very proud of their efforts and look forward to link U.S. small business clients with Costa Rica's small businesses."
The Costa Rican National Institute Learning (INA) and the Costa Rican Ministry of Economy Industry and Commerce (MEIC) funded the training. Both organizations had representatives present in support of the training including Luis Alverez Soto, vice minister of the economy industry and commerce.
The first round of SBDC Counselor and Director Certificate Training was in early 2012 with more than 56 program graduates. As a result, six of the more than 25 Costa Rican business assistance centers are using the U.S. SBDC model that UTSA presented, and the others are expected to use it as well.
The International Trade Center at UTSA is one of the largest and most successful trade assistance organizations in Texas. It helps companies become globally competitive through technical trade consulting, customized market research and innovative training programs. The center is a specialty SBDC program in the South-West Texas Border SBDC Network. Follow them on Twitter (@TexasTrade) and like them on Facebook.com/texastrade.
For more information on the project, visit the SBDC Global website.
------------------------------
About UTSA
The University of Texas at San Antonio (UTSA) is an emerging Tier One research institution specializing in health, energy, security, sustainability, and human and social development. With nearly 29,000 students, it is the largest university in the San Antonio metropolitan region. UTSA advances knowledge through research and discovery, teaching and learning, community engagement and public service.
The university embraces multicultural traditions and serves as a center for intellectual and creative resources as well as a catalyst for socioeconomic development and the commercialization of intellectual property -- for Texas, the nation and the world.