UTSA New Media Collective presents 'Slap and Tickle' exhibit-performance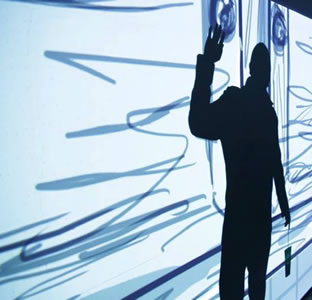 Share this Story
(Feb. 21, 2014) -- For one night only, the Blue Star Contemporary Art Museum at Blue Star Arts Complex Suite 116, will host "Slap and Tickle," a group exhibition and performance by the UTSA New Media Collective. Free and open to the public, the event is 6-9 p.m., Monday, Feb. 24
Slap: To cause to strike sharply and loudly
Tickle: To tease or excite pleasurably
Throughout the course of art history, there have been "slap artists" such as the Dadaists and Paul McCarthy. Alternately, artists such as Christo/Jean Claude and Nick Cave have used the power of pleasure to tickle the senses. "Slap and Tickle" explores the ways that contemporary art can both provoke and cajole the viewer into a heightened aesthetic or social experience.
Through a series of interdisciplinary installations, video works and live performances, a range of artists will share their offerings of both "slaps and tickles." Using individual inspirations, more than a dozen interdisciplinary artists will experimentally take on cultural topics, environmental reconfigurations, sound, movement and personal narratives.
Between 6 and 7 p.m., installation and duration-based works will be exhibited throughout the space. Beginning at 7 p.m., there will be a series of scheduled live interdisciplinary performances, which will include a group ensemble of Slap and Tickle, an interpretive contortionist and creative sound, moving image and movement works.
The UTSA New Media Collective is headed by Professor Mark McCoin and includes undergraduate and graduate students in the UTSA Department of Art and Art History. Students from the course explore the integration of live digital sound, video performance, movement, sculpture and any combination of space-time creativity (with technologies) they wish to experiment with in an intermedia format.
Blue Star Contemporary Art Museum is at South Alamo and Probandt streets south of downtown San Antonio.
For more information, email Mark McCoin or visit the Blue Star website.