Teaching assistant positions are open for new UTSA first-year student course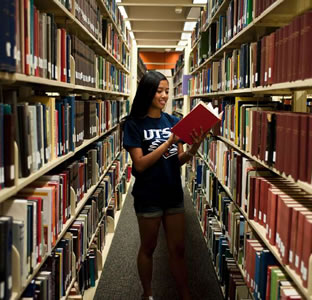 Share this Story
(Feb. 25, 2014) -- UTSA University College is seeking graduate students for 30-40 positions as Teaching Assistant I. A part-time, temporary, non-benefits-eligible position,  teaching assistants will provide pedagogical support to the Academic Inquiry and Scholarship (AIS) 1203 instructors of record. The application deadline is March 17.
AIS 1203, a core curriculum course required of all incoming freshmen starting in fall 2014, will introduce students to the general scholarship practices within three broad academic areas: natural sciences, social sciences and humanities. The enrollment for AIS 1203 is capped at 50 students.
Teaching Assistant I pedagogical responsibilities:
Attend AIS 1203 class meetings** (3 hours per week per section)
Meet regularly (at least one hour per week) with the instructor of record for debriefing and preparation
Prepare materials for the week and manage Blackboard Learn
Hold regularly scheduled office hours (may include review and tutoring sessions)
Grade a maximum of 50 percent of course assignments, quizzes, exams and projects
Collaborate with the AIS peer mentor to provide additional outreach and support to students
** While attending the AIS 1203 class meetings, the teaching assistant will be expected to take attendance, facilitate group work, monitor student engagement, monitor student behaviors, assist with administering exams, possibly work under the direct supervision of the instructor to develop and present course lectures (maximum of 4 lectures), and other duties as assigned.
Teaching Assistant I general responsibilities:
Serve as a mentor/role model for students
Serve as a resource for students
Be knowledgeable of campus resources
Be prepared for class meetings and instructor/student meetings
Be a good listener -- be fair and respectful
Be reliable -- always show up for class, meetings and events
Be open, honest and direct
To apply, pick up an application form at the First-Year Experience Program office at Multidisciplinary Studies Building Room 1.02.06 on the UTSA Main Campus. The form includes salary information.
For more information, contact Tammy Wyatt at 210-458-5191.