Longtime UTSA staff member Todd Wollenzier dies Tuesday, Feb. 25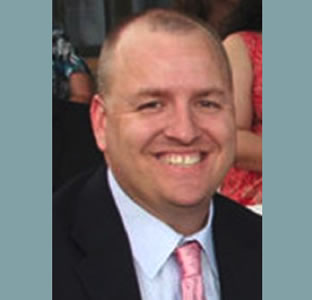 Share this Story
(Feb. 28, 2014) -- Todd Wollenzier, UTSA assistant director of student conduct and community standards, died Tuesday, Feb. 25 after a valiant battle with cancer. He is survived by his wife, Heather Trepal, associate professor in the Department of Counseling, and three children, his parents, brothers, in-laws and extended family members.
Wollenzier began working at UTSA in August 2004. His contributions to the UTSA and San Antonio communities include service on the Parking and Transportation Committee, Behavioral Intervention Team, University Center Floor Captains, Staff Council, Alamo Area Council of Governments Law Enforcement Academy Advisory Board and the UTSA Listens Committee. He maintained strong professional bonds with members of the academic and student affairs community in relation to student conduct and was nearing completion of a UTSA master's degree in justice policy.
He was respected as a mentor to his peers for investigative skills, motivational interviewing, and analysis of laws and rules. Wollenzier's expertise was recognized and utilized by peers to assist in problem-solving issues related to free speech and FERPA. His knowledge and commitment to serve students was foundational to his casework.
Todd lettered in football and track in high school. He attended Kent State University, where he was a member of the Phi Kappa Tau fraternity, and graduated with a bachelor's degree in criminal justice. He was employed as a police officer for Kent State University and later for the City of Stow, Ohio.
Wollenzier was a longtime fan of Cleveland sports teams, politics, civil rights and electronic gadgetry and never met a cookie that he didn't like. He was beloved by his children, family, friends and colleagues for his sense of humor, gentle and kind yet firm nature, and infectious laugh.
>> The family will receive friends from 4 to 6 p.m., Saturday, March 1 at Porter Loring Mortuary North. The funeral will be in Stow, Ohio, with interment at Holy Cross Cemetery.
The Todd Wollenzier Memorial Fund is being set up for contributions to assist students in need, one of his passions. The family requests donations be made to this fund in lieu of flowers. To donate, visit the UTSA Student Life website.