UTSA students dedicate break to giving back to the community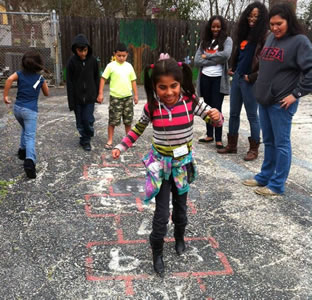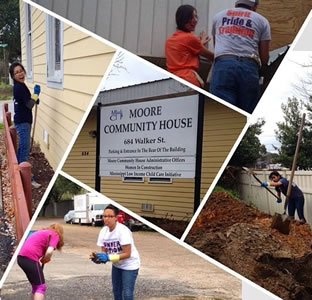 Share this Story
(March 27, 2014) -- Twenty-nine UTSA students and six staff members traveled across the country to dedicate their spring break to service as part of the UTSA Alternative Spring Break (ASB) program. This year, Volunteer Services and VOICES coordinated two ASB destination trips in St. Louis, Mo., and Biloxi, Miss., and one local trip in San Antonio.
The ASB program has engaged students in service during the break for several years through the Volunteer Organization Involving Community Education and Service (VOICES) and UTSA Volunteer Services.
Students worked with Mission St. Louis, an agency dedicated to empowering people to transform their lives, families and neighborhoods. Students provided assistance to people experiencing hunger and poverty. They painted homes, cleaned gutters and completed other household repairs for those in need. The students also participated in The Bridge Walk, which provides meals and support services for the homeless of St. Louis.
"My experience with ASB was more than I imagined," said Amber Calvert, ASB trip leader for the St. Louis group. "It made me realize how truly blessed I was for my life and being able to help others live a better life. It is definitely something that I would recommend and something that I would do again while here at UTSA."
The Biloxi cohort worked with the Community Collaborations International agency. They participated in ecosystem restoration along the Gulf Coast. Projects included shoreline restoration, native plant propagation, wildlife habitat improvement, dune restoration, public land restoration and invasive species removal. The environmental projects build an understanding of coastal ecosystems and watersheds and how they are affected by manmade and natural disasters.
Student who stayed in San Antonio worked with the Guadalupe Community Center to assist with the children's spring break camp. Students led the children though daily arts and crafts projects, recreation time and educational programs.
"It was great to meet new people and learn about the community in different areas," said Aleera Marie Barrera, an ASB participant. "I learned a lot about myself and others on this trip, which was a great learning experience overall."
For more information about Alternative Spring Break, visit the Volunteer Services office in H-E-B University Center Room 1.216 or the VOICES website.