UTSA dimensional painting exhibit follows theme of man vs. nature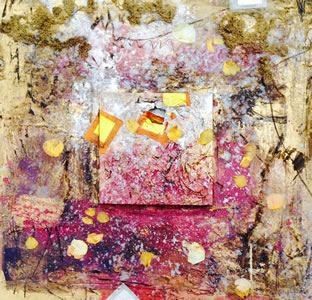 Share this Story
(March 24, 2014) -- The UTSA Office of the President will present an exhibit of dimensional paintings through June 11 at the Downtown Campus Art Gallery in the Durango Building. The exhibit features works made of multiple media by local artists Eric Breish, Raul Gonzalez and Jesus Toro Martinez. The exhibit uses the theme "man vs. nature," the theme of this year's Contemporary Art Month.
>> An opening reception, free and open to the public, will be 6-8 p.m., Thursday, April 3. Free parking will be available in the parking garage.
A commonly understood concept, we often forget the beauty that lies in the relationship of man vs. nature despite the adversarial way we often interact in today's world.
Exhibition curator Abigail Marquez, assistant for the UTSA Art Collection, brings to light the beauty in the relationship through the works of Breish, Gonzalez and Toro Martinez. Each of the artists applies the concept in a different way, but all of the works incorporate an element of painting. Marquez chose these artists because their work is rooted in the natural world and challenges tradition.
Eric Breish's work is composed of plaster and metal -- a composition that under perfect light exposes the multidimensionality of his work. The urban feel of his pieces challenges the traditional view of the relationship of man vs. nature by using nontraditional media.
Raul Gonzalez layers media to express the intertwining of humans with the world around them. His repetitive use of Plexiglas, cardboard and duct tape brings a conceptual feel to the artwork.
Jesus Toro Martinez introduces the viewer to the romance that man has with the natural world. The use of texture in his pieces gives more weight to the relationship. This heaviness emphasizes the love between both parties. The fibers mixed with gold pigment and other materials express intimacy and the intermingling of man and nature, despite the tension.
Evident in all of the artworks, beauty is the link that spans the tension of man vs. nature. Through that tie, man is able to negotiate the inter-workings of that relationship.
Free and open to the public, gallery hours are 8 a.m.-5 p.m., Monday-Friday.
For more information, contact Arturo Infante Almeida at 210-458-4983.