UTSA McNair Scholars travel to North Texas for annual research conference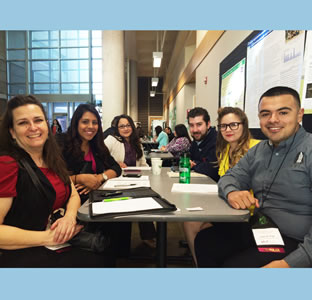 Share this Story
(March 14, 2014) -- Six students in the UTSA McNair Scholars program recently traveled to the University of North Texas in Denton to attend the 16th annual Texas National McNair Scholars Research Conference. The UTSA students were among 175 participants representing more than 25 universities from across the country. Attendees presented their academic research and shared their research experiences and results with their peers and other scholars in their disciplines.
Senior psychology major Victoria Barbosa Olivo and junior biology major Christopher Hwozdek delivered presentations to the crowd. Olivo, under the direction of Kristina Durante, UTSA assistant professor of marketing, presented her research on "The Extended Parental Self: Gender Differences in Parental Spending on Sons vs. Daughters."
"I learned a lot from the keynote speakers and felt that they spoke about issues that every scholar faces," said Olivo. "I also feel like the conference was good for my personal and academic growth and left feeling very empowered."
Christopher Hwozdek, under the direction of Nicole Wicha, UTSA assistant professor of biology, and Angelique Blackburn, presented "Survey Says: Response Conflict is Easier to Resolve with Practice from Language Use."
At the conference, students received feedback from peers and faculty members, and also heard from motivational speakers Enedilia Saudeca, Russell F. Stark and Luis Ricardo Fraga. Students also participated in a graduate school recruitment fair and breakout sessions with more than 40 graduate programs from across the country.
"I really enjoyed the close personal attention from the recruiters on the graduate panel," said Laurel Jackson-Cook, a senior UTSA McNair Scholar. "The conference was awesome and was one of the best conferences that I have ever attended."
The Ronald E. McNair Scholars program is part of the UTSA Office of P-20 Initiatives in Multidisciplinary Studies Building Room 2.03.14B on the Main Campus. The programs offer selected sophomores, juniors and seniors opportunities to participate in faculty-led research and assist with preparation for graduate school. The McNair program is accepting applications for fall 2014.
------------------------------
For more information, visit the UTSA P-20 Initiatives website or contact Darrell Balderrama at 210-458-4284.