UTSA Roadrunner of the Month: Leo McAfee Jr. inspires others through leadership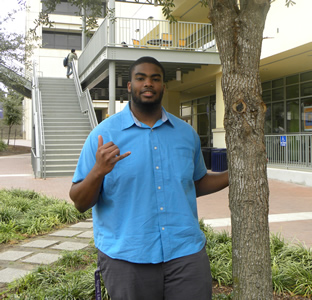 Share this Story
(March 7, 2014) -- The UTSA Student Leadership Center announces Leo McAfee Jr. as Roadrunner of the Month for February. McAfee was nominated by Clarissa Johnson, a fellow UTSA student.
"I try to influence every individual I meet to have the mentality that anything they aspire to be in life is possible with persistence and self-will," said McAfee.
McAfee is from El Campo, where he graduated from El Campo High School. He is a junior studying mechanical engineering. Upon graduation, McAfee would like to apply the knowledge he obtains from his degree in order to make a significant change in the world.
"I think Leo is the perfect model for what a leader should be because he is able to take charge and control of a situation and also let everyone's voice be heard," said Johnson. "It is a respectful quality not a lot of people have, and his ability to display this type of leadership is inspirational."
McAfee has displayed exceptional leadership on campus through membership in the Sigma Lambda Beta International Fraternity Inc. Throughout his membership, he has taken on multiple leadership roles within the fraternity such as sergeant-at-arms, academic chair, social chair and executive board member. McAfee has also been a part of the Black Student Union and served a term as vice president of the Multicultural Greek Council. Earlier this year, he was a student facilitator for The Exploration: Exploring Social Justice for All, a civil rights trip offered through the Student Leadership Center.
"Leadership is the opportunity to share gained knowledge with others and influence them to make positive changes in their respective walks of life," said McAfee.
The Roadrunner of the Month award is sponsored by the Student Leadership Center to recognize outstanding UTSA student leadership contributions.
Nominees must meet these criteria to be considered for the award:
Must be a full-time UTSA undergraduate or graduate student
Must have a cumulative grade point average of 2.5 or higher at the time of nomination
Must have demonstrated excellence in leadership above and beyond typical expectations
Nominations should be for actions that positively impact the UTSA community
Submit nominations at the UTSA Student Leadership Center website.