UTSA completes training for small-business counselors, directors in Merida, Mexico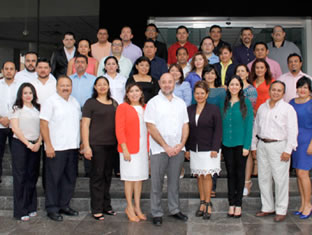 Share this Story
(March 21, 2014) -- The International Trade Center at The University of Texas at San Antonio (UTSA) Institute for Economic Development completes its two-module Small Business Development Center (SBDC) Counselor and Director Certificate Trainings in Merida, Mexico March 18-21. Approximately 35 participants are expected to graduate representing the public, private and higher education sectors.
SBDCs, established throughout the United States by the federal government in partnership with state governments and universities and colleges, assist entrepreneurs and business owners in establishing and growing their businesses through a free and confidential suite of advising services. Services include, but are not limited to, feasibility studies, business strategy, financial planning, marketing, production and professional networking. The centers support new and existing businesses.
The goal of the SBDC Counselor and Director Certificate Training is to transfer the SBDC model methodology and train professionals on how to manage and operate an economic impact-producing SBDC. This training is part of the International Trade Center and Institute for Economic Development International SBDC Expansion Initiative that, with the support of the Department of State, has helped countries develop U.S.-modeled SBDC networks in the Americas since 2003.
Mexico was the first country that the International Trade Center assisted with creating and developing a national SBDC network. Today, there are more than 100 associated centers throughout the country -- the most of any country outside the United States. More centers are in development. In Mexico, SBDCs are part of the Asociación Mexicana de Centros para el Desarrollo de la Pequeña Empresa (AMCDPE), which oversees the countrywide network of centers.
UTSA International Trade Center Senior International Business Consultant Julio Garcia de las Mestas and Client Management Specialist Anabel Guerra will conduct the trainings. UTSA Associate Vice President for Economic Development Robert McKinley will preside over the closing ceremony.
UTSA will work with the network of Institutos Tecnologicos, part of the Direccion General de Educacion Superior Tecnologica (DGEST)on this training to continue strengthening the capacity of the Mexican SBDCs for business assistance that is expected to create a big boost to the regional economy and add to the overall strength of the SME sector of the country.
"This is the 13th round of training that we have provided with our partners in Mexico to help build a robust small-business development network," said International Trade Center Director Cliff Paredes. "From 2012 to 2013 our partners in Mexico created 37,820 jobs that helped to keep Mexico as a stable and thriving trade partner for Texas and the U.S."
The International Trade Center at UTSA is one of the largest and most successful trade assistance organizations in Texas. It helps companies become globally competitive through technical trade consulting, customized market research and innovative training programs. The center is a specialty SBDC program in the South-West Texas Border SBDC Network. Follow them on Twitter (@TexasTrade) and like them on Facebook (Facebook.com/texastrade).
For more information on the project, visit the SBDC Global website.