UTSA East Asia Institute hosts Taiwan Assembly Dance Theatre April 2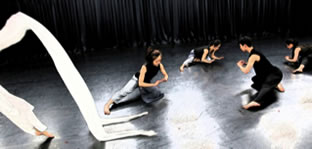 Share this Story
(March 26, 2014) -- The UTSA East Asia Institute will host the Assembly Dance Theatre (ADT) from Taiwan for a performance and workshop at 6 p.m., Wednesday, April 2. Free and open to the public, the dance presentation will be in the Buena Vista Theatre (1.326) at the UTSA Downtown Campus.
The Assembly Dance Theatre was founded by Kuei-Chuan Yang in 1993. The group's style is a mixture of old and new and east and west. Thus, the ADT is characterized by a cornerstone of indigenous cultural philosophy and assembling outstanding choreographers to create a worldwide dance language. In the last 15 years, the acclaimed dance troupe has presented 140 performances in Taiwan and around the world.
Yang devoted herself to create dances utilizing Chinese calligraphy as the main source of inspiration. Her early works such as "After the Word," "Moon," "Solo Due," "Wax and Wan," "Walking in Two Ways" and "Who is Singing" sought to explore life through inscribing a modern spirit into old traditions.
Since its founding, ADT has developed a reputation for quirky pieces that combine a minimalist Eastern aesthetic with contemporary modern dance, thanks to Yang's training at UCLA. She did the bulk of the choreography for the troupe early on, but in recent years, the company's productions have been more collaborative as Yang sought out young Taiwanese and other choreographers to create pieces for performance.
The UTSA event is supported by the Ministry of Culture of Taiwan, Taiwan Academy of Houston, Taiwan American Association of San Antonio and City of San Antonio Office of Cultural Affairs.
Free parking for the event will be available in lot D3 under Interstate 35.
-------------------------------
The UTSA East Asia Institute promotes appreciation and understanding of East Asian societies and cultures on campus and in the community through research, outreach, networking, education, student and faculty exchange, and business development and cooperation.
The institute organizes seminars, workshops, lectures, conferences, film festivals and art exhibitions as well as bringing in performing arts groups from China, Japan, Korea and other Asian nations. It encourages faculty research collaborations both within UTSA and with participating East Asian university researchers.
For more information, contact the UTSA East Asia Institute at 210-458-4943.