UTSA Student Government Association hosts University of Monterrey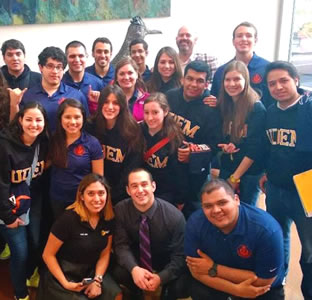 Share this Story
(March 3, 2014) -- Representatives from the University of Monterrey (UDEM) student council recently visited The University of Texas at San Antonio to meet with the UTSA Student Government Association (SGA) to learn about SGA's process.
The meet-and-greet started with breakfast in the University Center on the Main Campus. SGA and UDEM students had fun with icebreakers and member bonding.
The students were taken on a tour by SGA President Zack Dunn and moved to the Business Building to talk about the similarities between the processes of each student council. The organization presidents and vice presidents explained their processes and opened the floor to questions.
"It showed (us) how different student governments can be, but also very similar. It opens up the organizations to new ideas and strategies to make their campuses better as a whole," said Christian Kenney, SGA student affairs chair.
>> Learn more at the UTSA Student Government Association website.