UTSA Department of English hosts third annual poetry reading 'It Could Be Verse' April 4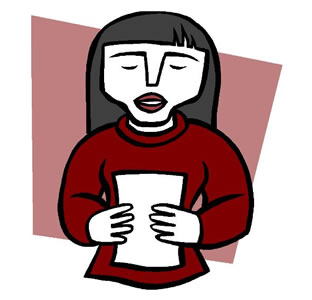 Share this Story
(March 31, 2014) -- The UTSA Department of English will present the third annual "It Could Be Verse" poetry reading at 7 p.m., Friday, April 4 in the Business Building University Room (2.06.04) on the UTSA Main Campus.
The evening will feature 25 reading presentations by UTSA students, alumni, faculty and staff representing a variety of periods, styles and genres. The reading choices will be a reminder of the power of poetry to delight, disturb, amuse and instruct.
The evening is in honor of Bonnie Lyons -- UTSA professor of English, scholar and poet -- who is retiring. Some of the readings will be selections authored by or favorites of Lyons.
Lyons joined UTSA in 1976 as an assistant professor and became a professor in 1988. Along the way, she taught 19th and 20th century American literature, 20th century British and Continental literature, modern drama, American Jewish literature, drama as a genre and poetry as a genre. Over her career, Lyons authored six books, 52 poems and more than 70 articles, notes or memoirs.
For more information, contact Steven Kellman, UTSA professor of English, at 210-458-5216.