Luncheon brings together UTSA students and professional engineers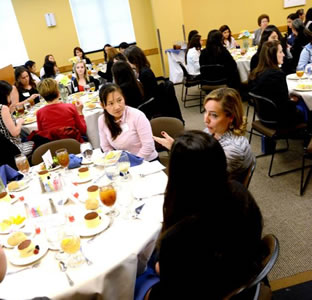 Share this Story
(March 10, 2014) -- Last week, the UTSA College of Engineering and the UTSA Society of Women Engineers student organization hosted a luncheon that brought female engineering students together with women working in the field of engineering.
The event, held annually, brings together students, faculty and industry professionals in a casual atmosphere, where they can share leadership ideas, experiences and challenges. It also serves as an important networking and career-development opportunity for UTSA engineering majors.
The luncheon opened with remarks by Barbara Kennedy, civil and environmental engineering student and president of the UTSA Society of Women Engineers, and Mehdi Shadaram, interim dean of the UTSA College of Engineering. The keynote speaker was Susanna Sabbagh, director of global technical solutions for Halliburton.
More than 20 professionals from companies such as the American Association of Blacks in Energy, Boeing Company, City of San Antonio, Continental Corp., Coyle SDA, Halliburton, O'Connell Robertson, Pape-Dawson Engineers, Rackspace, San Antonio Water System, Southwest Research Institute, Vickrey & Associates, and Zachry Holdings met with nearly 40 UTSA students. In addition, UTSA College of Engineering faculty members Rena Bizios, Kiran Bhaganagar, Krystel Castillo, Afamia Elnakat, Ruyan Guo and Heather Shipley attended the luncheon to support the students.
After the keynote speech, students at each table facilitated a discussion on the topics of leadership styles, qualities and experiences.
"My favorite part of the luncheon was the discussions," said Rachel de la Garza, a junior mechanical engineering major. "We really got to know more about our tablemates' experiences in the business and engineering world."
The luncheon was generously underwritten by Halliburton.
>> Learn more about the efforts to support female engineering students at the UTSA College of Engineering website or the UTSA Society of Women Engineers website.
>> View photos from the event.