UTSA debate team ranks 25th in nation among 250 universities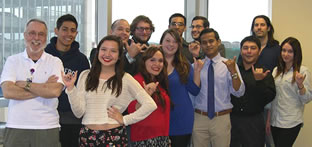 Share this Story
(April 22, 2014) -- The UTSA debate team has provided solid records at regional and national tournaments in 2013-2014 in a rebuilding year. All season, UTSA debaters have battled their way up in the rankings, starting out 53rd of 250 universities to their current position of 25th in the nation.
In a big win, they placed first in the Kansas State University tournament in February. Along with individual tournament successes, the debate program won two other awards. UTSA finished the year in second place among the 10 programs in the CEDA South-Central Region. UTSA also received the CEDA Founders Award, an all-time, points-achieved award.
In mid-March at the Cross Examination Debate Association' National Championship in Bloomington, Ind., Alexis Morales and Edwin Pleitez, both from Houston, won five of eight preliminary rounds, advancing to the triple octofinals and tying for seventh place nationally. At the awards assembly, Morales was pleasantly surprised by winning the 11th top speaker award out of 248 debaters.
Later in March, UTSA debaters attended the National Junior Varsity-Novice Debate Championship in Kansas City. The novice team, Bob Grace and Diane Elizondo, made it to the final round, which they won, placing first in the nation. Elizondo was awarded the 10th best speaker position and Grace won the First Speaker Award, capping a successful season. Pleitez and Morales advanced to the quarter final round finishing fifth in the nation.
During 2013 and 2014, the team grew and debated well, and they are looking forward to a superior incoming group next fall. UTSA had an excellent year and will immediately begin the research process for next season.