UTSA celebrates Fiesta San Antonio with a month of special events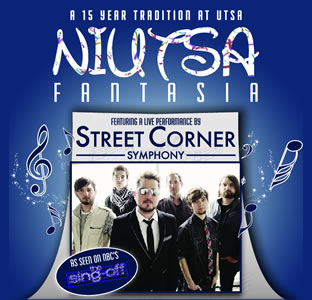 Share this Story
(April 3, 2014) -- UTSA will celebrate Fiesta San Antonio with free, public events throughout April. This year, Fiesta runs from Thursday, April 10 through Sunday, April 27.
The month of events begins with UTSA's 15th annual NIUTSA from 7 p.m. to 9 p.m., Saturday, April 5 on the first floor of the Durango Building at the UTSA Downtown Campus. NIUTSA is UTSA's family-friendly, pre-Fiesta event with live music, food and activities sponsored by the UTSA Office of Student Activities and the Campus Activities Board.
Nashville-based Street Corner Symphony, runners-up of NBC's singing competition "The Sing-Off" and one of the preeminent a capella groups in the nation, and local mariachi musicians featuring UTSA students will perform. The theme of this year's NIUTSA is "Fiesta Fantasia." For more information, email Michelle Rocha.
UTSA's official Fiesta event will be 11 a.m. to 3 p.m., Friday, April 11 at Sombrilla Plaza on the UTSA Main Campus. Now in its 37th year, the event includes students offering food, activities and music with proceeds benefiting their student organizations.
Barbadian singer, songwriter and guitarist Philip 7 will open the event with a live performance at 11 a.m. Fiesta royalty including El Rey Feo LXVI Jimmy Green and King Antonio will arrive at 1 p.m. for the traditional Fiesta UTSA Royal Procession and onstage ceremony with President Ricardo Romo at 1:30 p.m. For more information, contact the UTSA Office of Student Activities at 210-458-4160.
UTSA's Party on the Paseo will be 6-9 p.m., Thursday, April 24 at the H-E-B University Center Paseo on the UTSA Main Campus.
The party, an unofficial Fiesta event, is geared toward raising awareness of the dangers of alcohol abuse. There will be free food, games and activities including a live performance by pop band The Well Reds. Local law enforcement agencies will be on hand to share the message of the importance of responsible alcohol use and the dangers of drunk driving.
Party on the Paseo is sponsored and coordinated by several UTSA student organizations and supported by the UTSA Office of Student Activities. Now in its sixth year, Party on the Paseo is a BACCHUS Network General Assembly Outstanding Creative Alcohol Abuse Prevention Program award-winning event, and is funded in part by a supporting grant from the U.S. Department of Education.
For more information, contact the UTSA Office of Student Activities at 210-458-4160.
Fiesta at the UTSA Institute for Texan Cultures
Running from Friday, March 28 through Sunday, July 6, the UTSA Institute for Texan Cultures' (ITC) newest exhibit, "Hats Off to Fiesta," is dedicated to the iconic, over-the-top hats that have become a staple of the Fiesta celebrations. The exhibit showcases nearly 50 Fiesta hats, crowns and tiaras of all shapes, sizes and colors.
In addition to the main exhibit, the ITC will feature several side exhibits and features commemorating Fiesta's long history such as "Colors of Fiesta," a student Fiesta hat exhibit prepared by the Academy of Career and Technologies Charter High School's fashion and design program; "A Night in Old San Antonio: A History in Photographs," a retrospective photo collage of Fiesta events, co-sponsored by the San Antonio Conservation Society; and a Fiesta Medal Mania! sash specially prepared for this year's Fiesta medals.
For more information, visit the UTSA Institute of Texan Cultures website.