UTSA Fiesta medals are available now at Roadrunner Express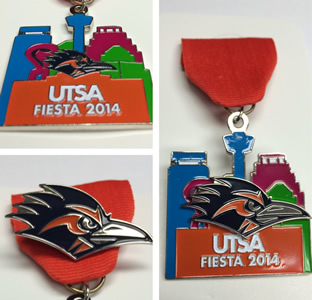 Share this Story
(April 10, 2014) -- The 2014 UTSA Fiesta medal is available now for $4 at Roadrunner Express at the Main Campus. Purchase your medals now while the supply lasts.
This year's UTSA Fiesta medal features an orange ribbon with the UTSA wordmark and "Fiesta 2014" beneath. The Rowdy head logo, also a removable pin, is displayed over a San Antonio skyline. When removed or moved to the ribbon above, a smaller Rowdy head is displayed and the San Antonio landmarks are visible.
According to the Fiesta San Antonio Commission, pin and medal collecting and trading is one of the most popular Fiesta traditions. The medals tradition goes back at least 50 years, but no one is exactly sure how the tradition began.
Each year, more than 100 nonprofit organizations order and sell the items as fundraisers. Local military organizations, private companies, individuals and other institutions also create the medals as mementos.
Fiesta medals can be sent to UTSA Downtown Campus departments via campus mail or picked up at the Main Campus. For out-of-town buyers, medals can be mailed with an applicable shipping charge.
Roadrunner Express is on the University Center Paseo between the fountain courtyard and Rios Golden Cut Salons. Payment can be by interdepartmental transfer (IDT), Visa, MasterCard, Discover, UTSACard or personal check with identification. Store hours are 7:30 a.m.-6 p.m., Monday-Friday.
For more information, email RRExpress@utsa.edu or call 210-458-6159.