UTSA College of Architecture April 15 lecture features Andrew Kudless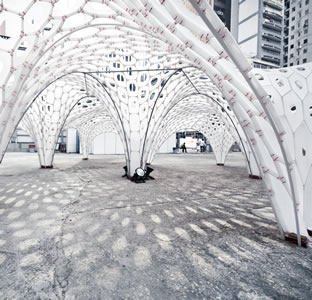 Share this Story
(April 11, 2014) -- The UTSA College of Architecture (COA) Spring Lecture Series will feature San Francisco-based designer and architect Andrew Kudless at 7 p.m., Tuesday, April 15 at the Chiego Lecture Hall of the McNay Art Museum. Presented in partnership with the McNay, his lecture, "Bodies in Formations," is free and open to the public.
Kudless is the UTSA College of Architecture Dean's Distinguished Visiting Critic for 2014. An associate professor of architecture at the California College of the Arts, he is the founder of Matsys, a design studio exploring the relationships between art, architecture, engineering, biology and computation.
Kudless will discuss the concept of "digital craft" through an exploration of his own completed projects including art installations and architectural pavilions by Matsys. In the last decade, artists, designers and architects have moved from analogue to digital tools for the design and fabrication of their work. His lecture will focus on the role of material and performance in the design process and how these should be considered in an integrative way within a digital context.
The work of Kudless and Matsys has been exhibited around the world; pieces are displayed in the permanent collections of the San Francisco Museum of Modern Art, the Centre Pompidou in Paris and the FRAC Centre in France. He has received honors including a FEIDAD Design Merit Award and a Fulbright Fellowship.
A UTSA College of Architecture graduate student project will be installed on the McNay grounds and available to view before the event, beginning at 5 p.m. Refreshments will be served at 6:30 p.m. The McNay Art Museum is at 6000 North New Braunfels Ave., San Antonio, Texas 78209. Free parking will be available in the McNay front lot.
The UTSA College of Architecture Spring Lecture Series brings architecture professionals from around the world to UTSA to share their expertise on a variety of topics with the local community.
For more information, contact Nicole Chavez at 210-458-3121.