Meet a Roadrunner: Aspiring architect maps out future by looking to past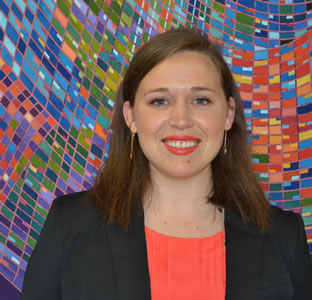 Share this Story
(April 16, 2014) -- Meet Laura Shipley. This aspiring architect and historic preservationist is using San Antonio's rich historical landscape and proximity to cultural sites as inspiration for her future.
"I've wanted to be an architect for as long as I can remember," said Shipley. "I came to UTSA because I was really interested in historic preservation, and I think San Antonio is the best city in Texas for anything related to historic preservation. I've loved every second of being here."
Shipley is a student in the M.Arch III program, an architecture graduate program for students without architecture undergraduate degrees. As an undergraduate, she pursued degrees in entrepreneurship and studio art at the urging of a family friend in the architecture field.
While at UTSA, Shipley has made it her mission to take advantage of as many opportunities as she can by accepting internships with small architecture firms, learning the ins-and-outs of the business, to traveling across the country to conduct research, to moving to another country to better understand historical preservation and architecture.
Currently, she is finalizing research for her thesis project, a conservation project for the Boston Government Service Center (BGSC), a mental health facility designed by architect Paul Rudolph.
Shipley is trying to understand how to preserve buildings created as a response to modern architecture that values functionality over aesthetics. The BGSC design, she said, emphasized aesthetics to the extent that it exacerbated psychological trauma in its inhabitants in spite of its function as a mental health facility.
This past summer, Shipley returned from an independent study project in Buenos Aires, Argentina, where she worked with professors at the University of Buenos Aires and a local city conservator on a variety of projects including conducting research on the architectural conservation of the various districts within the city. She received a Graduate Student Research Award for her efforts. Shipley was one of five recipients selected from 45 applications by the UTSA Graduate School to receive this honor.
In addition to her two recent projects and architecture firm internships, she is an intern with the Historic San Antonio Missions. She even helped prepare their applications for World Heritage Site consideration by the United Nations Education, Scientific and Cultural Organization (UNESCO).
As Shipley looks forward to her upcoming graduation at the May 10 Commencement ceremony, she said she will take all her experiences with her and put them to good use in her chosen field.
------------------------------
Do you know someone in the UTSA community doing cool things? Email us at social@utsa.edu, and we will consider your submission for an upcoming installment of Meet a Roadrunner.