UTSA New Media Collective presents one-night exhibit-performance April 18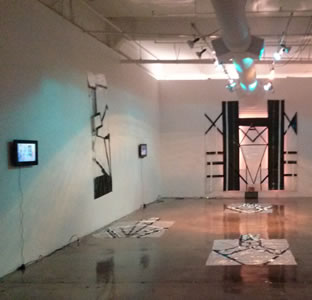 Share this Story
(April 17, 2014) -- The UTSA New Media Collective will host "A Show Titled, Like Symbol, Like Prince," a group exhibition and performance lasting one night only. The show is 7-10 p.m., Friday, April 18 at High Wire Arts, 326 W. Josephine St. The event is free and open to the public.
The exhibit is an original, evening-length art experience with themes focusing on personal stories, experimental rituals and "binary juxtapositions." The event will feature live performances, video art, a painting battle, multimedia installations and a host of innovative content. The viewer will be left to consider direct engagement with the sensorial experience.
Between 7 and 8 p.m., installation and duration-based works will be exhibited throughout the space. Beginning at 8 p.m., there will be a series of scheduled live interdisciplinary performances that will include a group sound-and-movement ensemble of "Beauties and the Beasts."
The UTSA New Media Collective is headed by Assistant Professor Mark McCoin and includes advanced undergraduate and graduate students from the UTSA Department of Art and Art History. Students in the collective explore the integration of live digital sound, video performance, movement, sculpture and combinations of space-time creativity with technologies they wish to explore in an intermedia format.
For more information, email Mark McCoin.