UTSA Party on the Paseo is Thursday, April 24 on Main Campus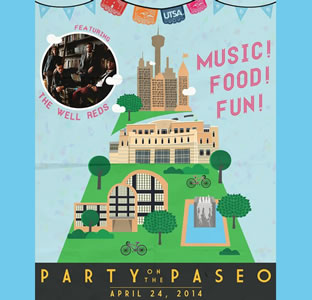 Share this Story
(April 22, 2014) -- UTSA's Party on the Paseo will be 6-9 p.m., Thursday, April 24 at the H-E-B University Center Paseo on the UTSA Main Campus.
The party, an unofficial Fiesta event, is geared toward raising awareness of the dangers of alcohol abuse. There will be free food, games and activities including a live performance by pop band The Well Reds. Local law enforcement agencies will be on hand to share the message of the importance of responsible alcohol use and the dangers of drunk driving.
Party on the Paseo is sponsored and coordinated by several UTSA student organizations and supported by the UTSA Office of Student Activities. Now in its sixth year, Party on the Paseo is a BACCHUS Network General Assembly Outstanding Creative Alcohol Abuse Prevention Program award-winning event, and is funded in part by a supporting grant from the U.S. Department of Education.
For more information, contact the UTSA Office of Student Activities at 210-458-4160.