UTSA Louis Stokes Scholar selected for summer research academy in Brazil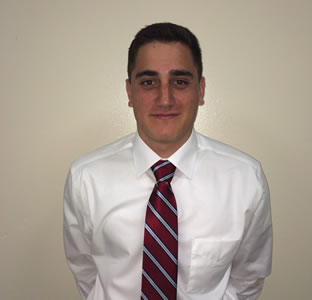 Share this Story
(April 15, 2014) -- Paul Hamilton, a UTSA student double majoring in electrical and computer engineering, was selected to participate in the Louis Stokes Alliance for Minority Participation (LSAMP) Summer Research Academy. Hamilton was one of only eight students from across the UT System selected to participate in the research fellowship sponsored and funded by the National Science Foundation. He will study for eight weeks this summer in Sao Paulo, Brazil.
Hamilton is a UTSA Air Force ROTC Program Detachment 842 cadet and upon graduation will be commissioned as a second lieutenant. He recently transferred from Northwest Vista College, where he learned about the Transfer Academy for Tomorrow's Engineers (TATE), a six-week collaborative summer program hosted by UTSA and the Alamo Colleges designed to increase the graduation rate of engineering students.
After a successful completion, Hamilton applied and was then accepted to the NSF 10-week LSAMP undergraduate research program, which is aimed at increasing the quality and quantity of students in STEM degree programs. His mentor was David Akopian, UTSA associate professor of electrical and computer engineering.
While in Akopian's SCNS lab, Hamilton's interest continued to grow, so he applied and was accepted to the LSAMP Summer Research Academy, which offered an all-expenses-paid research abroad program.
Under the research abroad program, Hamilton will study for eight weeks at La Universidad de Sao Paulo, Brazil, where he will work in the computer engineering department researching safety systems for Unmanned Aerial Systems. Upon his return, he and his fellow LSAMP research scholars will present their research findings at the annual statewide LSAMP conference at the University of Texas at El Paso.
"This summer experience will allow me to look into my future career and provide me with an invaluable opportunity to experience the realm of engineering before I graduate," said Hamilton. "It will give me a new outlook on life and a global perspective in relation to the field of engineering. I'm truly honored and humbled to have been given this opportunity."
Once the study abroad in Brazil is complete, Hamilton will move to Houston and join his classmate, UTSA engineering student Ricco Aceves, to participate in the prestigious NASA Pathways Intern Employment program. The pair are among 150 students representing 70 universities selected to participate in the yearlong NASA internship that focuses on giving undergraduates opportunities to explore federal careers while still in school.
For more information on P-20 programs, visit the UTSA Office of P-20 Initiatives website or call 210-458-2769.