UTSA students compete in Ready, Set, Research! competition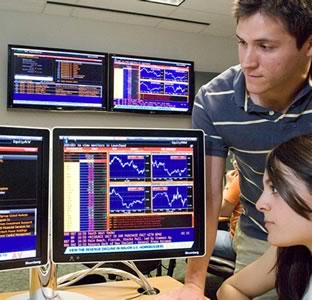 Share this Story
(April 11, 2014) -- The UTSA Graduate School recently hosted the bi-annual Ready, Set, Research! competition, where 32 graduate students presented their research in three minutes or less. Six colleges and 24 programs were represented.
The competition was judged by Carla Pezzia, president of the Graduate Student Association; Jan McKinney, director of communications, Office of the Vice President for Student Affairs; and Michelle Stevenson, assistant vice president for integrity compliance. The top two master's and doctoral competitors received cash awards.
In the master's category, social work student Nicole Bell won first place with her research proposal "Teen Dating Violence," which stems from a descriptive study she is conducting assessing the types of teen dating violence prevention curriculum utilized by schools in Greater San Antonio.
"This research topic is important to me, given that in Texas 11.8 percent of adolescents report experiencing some type of dating violence," said Bell. "I feel strongly that implementing theoretically sound and empirically researched teen dating violence prevention curriculum in our high schools is of great importance, and I am excited to be involved in researching this topic in the UTSA Department of Social Work."
In the doctoral category, applied demography student Matthew Martinez took home the top prize with his presentation "Teacher's Perception of Student Behavior and Racial Composition," presented in the form of spoken word, or "slam" poetry.
"My research question focused on how teachers' perceptions of students varied by their own race and also the racism composition of the school," said Martinez. "I found that when white teachers are teaching in a school comprised of a large number -- 70 percent or more -- of minority students, they would rate student behavior in the school as worse when compared to minority teachers. On the other hand, when minority teachers are teaching in a school comprised of a large number of white students, there would be no difference in their perceptions of student behavior than that of white teachers."
"I try to explain the results in a historical, social context because simple racial explanations can be dangerous to race relations in our society and do not help to advocate for solutions," Martinez added.
"I have to say the coolest part was watching Matthew Martinez's presentation," said John Shaffer, assistant director of graduate student success. "He raised the bar for this competition."
Because these students have spent a great deal of time conducting their research, presenting their findings under the strict three-minute allotment proved challenging but motivating, and both students saw added value in a competition of this nature.
"The structure of the RSR event seemed very similar to a slam poetry contest," Martinez said. "Given the call for creativity of presentation together with my desire to challenge myself as an artist, I thought it would be a good idea to present my research in spoken word form."
"The time constraints were stressful, but I think they were realistic," said Bell. "When you are trying to present your research to someone who is busy, most of the time you really only have a few minutes to sell how important your idea is. This experience was amazing for me, and I was honored to be a part of it."
>> Learn more information about the Ready, Set, Research! Competition.